In a family where at least two children grow up, and with a slight difference in age, there is always a lot of cry, a lot of noise, a lot of laughter and joy. Children play and have fun together, but quite often the irreversible consequence of their joint pastime are quarrels.
But no – not even that. Almost all of their common games and activities, no matter how exciting and interesting they are, end in quarrels and offenses. I declare this so boldly and responsibly, as I observe this picture up to ten times a day between my daughters, especially on weekends.
But at once I want to say that everything is not so scary – the ease with which the children quarrel among themselves, as easily and quickly they put up.
… put up, put up, put up! And do not fight again! And if you fight, I'll bite. etc.
I hear this well-known poem from the mouth of my girls several times a day – one (guilty) starts first, and the second (offended) eventually, bitterly swallowing tears, as if reluctantly, picks up … By the end of the peace, they are already together and fun, firmly grappling with their little little fingers for each other, they shout: Matches, matches, matches – we are sisters!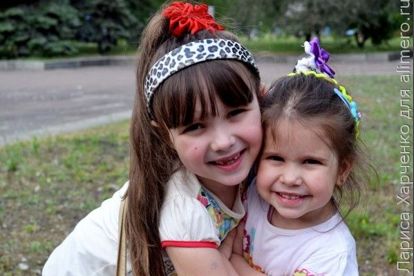 And once again, I am happy and tender, imperceptibly brushing away a tear that I took from nowhere and open my arms wider because I know that after a few seconds they will come running to me and, interrupting each other, will hastily tell someone offended, but quite by accident and already everything is fine, because they have already reconciled. And I will hug them tightly and praise …
Of course, this was not always the case. For my girls, the difference between them is three years. Together they started to play a little over a year ago – the youngest tried to repeat everything behind the older one, and the older one, feeling her advantage over the baby, often used it – she didn't give something, took something, hid somewhere, hit her a little.
The reaction was always instantaneous – first bitter tears of resentment, and then – retaliation – in word, deed or even with a fist. Yes, yes – our youngest one – can stand up for itself.
At first, I controlled and regulated this process, trying to minimize assault. Now it comes quite rarely – each has its own characteristic ways to offend the other and, accordingly, the reaction of the offended person is often predictable.
Previously, after a quarrel, the girls simply sat down in different corners with puffed cheeks, and then I quietly taught them to put up.
Now, in this process, which is so important and inevitable for them to quarrel and make peace, I practically don't intervene – they remembered what I once told them, added something of their own, and now they have their own ritual of reconciliation, which always ends with fun and ringing laugh.
I really want to hope that over the years, my girls will not forget that all problems are solvable, it's only worthwhile to say together: Together, matches, matches, matches – we are sisters.