Children are small personalities, with their desires and interests. But we must not forget that children are just children. And they should have children's entertainment.
This year we were lucky to get to the sea for a few days. The trip was not planned, so somehow it was not possible to arrange a children's holiday in a special way.
Arriving at the resort, of course, the children first of all pulled me to the sea. Well, after the sea – cafes, bars and discos. But this is adult entertainment, what about children?
Children and strip club
While my husband and I thought and wondered how to spend leisure time, I came across a sign on one of the nightclubs Male striptease. Entrance with children under 3 years is allowed. And where is 18? Of course, a 3-year-old child does not understand anything, you can carry him everywhere with him. And the fact that the program starts after 23.00 and the children need to sleep, this does not concern the organizers. Responsibility for raising a child falls on the parents, it is clear to everyone.
Someone makes money, and someone has to think about their child. I do not understand those parents who lead children to such an idea. But if there is a sign, then there are similar cases. I am absolutely not against striptease, but I am opposed to taking children to such events.
Children and discos
Another entertainment event that makes me doubt. If the disco is under the open sky – somehow I can understand it. After all, it is not always on hand there are grandmothers where you can throw children. And you want to relax, for that vacation and we are given.
But if the institution is closed, where it is smoky and smelled all the alcohol – then excuse me, think parents about children in the first place.
We were with children several times in open institutions, but tried to choose those that are most suitable for children. This is a good ventilation, and the ground is wide, and there are comfortable tables where children can relax.
But in principle, why do children need adult entertainment? There are plenty of opportunities on vacation to make this time useful for children. Today there are so many children's attractions, virtual simulators, amusement parks, where you can spend your time with the kids!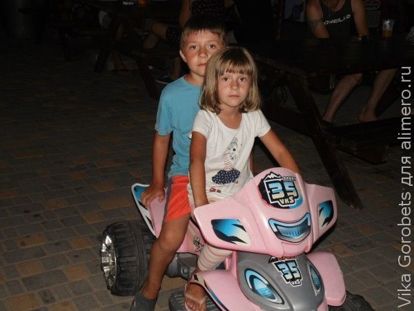 Therefore, in our short and unplanned vacation, we faithfully devoted time to the children and made their holidays colorful and unforgettable. They rolled the kids on the rides, fed them with ice cream and put them to bed at the right time. And when the children fell asleep, then we could afford to rest.
Therefore, I am in favor of children having fun as a child, and adults as an adult. What do you think, is it possible for children to walk at night with their parents?