Recently, we rested for the first time with a daughter abroad. Of course, the safety rules should be observed always and everywhere, but in a foreign country you need to monitor the child very carefully.
Children react differently to unfamiliar food and even water. The reaction may be problems with digestion and appetite. Therefore, you should feed your child with food that is as close as possible to their usual diet.
Water should be used only bottled, at first you can even brush your teeth and wash it until the body gets used.
In foreign supermarkets, you can find products familiar to well-known brands familiar to the child (for example, we bought Barney's biscuits and yogurts, which our daughter also eats in Kiev).
In advance, you should tell the child about the upcoming trip to a country where people speak a different language. Ideal to teach several English language phrases.
The main thing is that the child must clearly know his or her first and last name, the names of the parents, and the place of residence. In hotels, silicone bracelets are usually attached to the arm (which cannot be removed during the entire period of stay). Such identification may also be useful.
Also on sale are similar silicone bracelets, which you can independently put the contact phone number of parents.
Before the trip, you should make copies of all documents (including insurance policy) and carry them with you. I photographed all the papers in advance so that in case of which they were always in my phone.
During our walks, we periodically designated noticeable places near which you need to be, if you get lost. For example, they said that if something happens, we meet at a store with street organs. Once this idea came in handy when we lost our father in a crowd.
During car trips is mandatory to use the car seat. Abroad for violating this rule, a decent fine is imposed. However, here, as in a joke, Our people are tacked on so that they will not be fined, and foreigners – for security purposes. We rented a car and my prerequisite was the presence of a car seat in it, which was provided for a fee.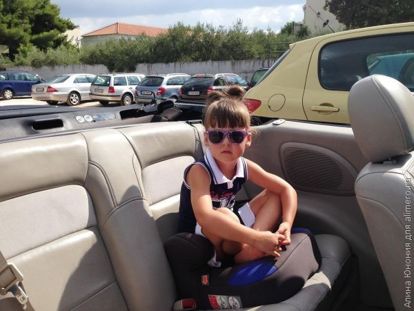 With frequent visits to public places – transport, beaches, toilets, an antiseptic for hands or antiseptic wipes will be an indispensable assistant, because there is not always a place where you can wash your hands.
Our trip was successful – my daughter behaved perfectly. In turn, we never for a moment took her eyes off her, she was constantly under our supervision. Although there were parents who left their children under the control of animators for half a day (who, by the way, speak only English) and quietly walking to the beach.