Two years is the age when the child begins to actively talk. For me, this is the most wonderful time: the first, far from always understandable words and ridiculous statements of a child amuse the whole family. The main thing is not to forget to write down (I have already started :))
My son is already talking a lot, although it is still very often with his mother as a translator. Therefore, we do not stop at what has been accomplished and continue to develop speech.
As before, I try to talk as much as possible with my son. We go for a walk – as they say, I see, then I sing. And the son keeps up the conversation. Actually, now, it happens and vice versa – I support.
I try to call everything by their proper names. Gradually we leave from any bibik and av. At a certain stage, when the child is just beginning to pronounce different sounds, I agree – these short words are necessary and useful. After all, their child is easier to remember and pronounce. And now, in the period of active development of speech, when the son can already repeat everything, they need nothing.
Now it is important for us to develop the articulation (well-coordinated work of the tongue, sky, teeth and other organs involved in the pronunciation of words) and the development of a breathing apparatus. There are various good and interesting activities for this. I found a lot of them and chose those that are right for us to play with a two-year-old child.
Still, nothing happens just like that. We think: Usual children's entertainment. It turns out – this is an exercise to develop speech. So do not forget about:
– bubble
– whistles
– candles
– simple dandelions
Soap bubbles, of course, the most simple, not in the form of a gun. After all, now the child will not just be happily and surprised to see the shiny, thinnest balls fly and disappear without a trace, but will himself produce them into the light. You may not praise me for the whistles and candles, but for a change, a little bit and under supervision, you may agree.
Today we have nothing to do (on the street is terrible and some kind of autumn weather) blew on candy wrappers from sweets. My son passed in my direction, and I in his. An interesting game was!
And in the bathroom you can blow a straw into the water. You can and just a glass of water. Fun and infectious baby laugh from gurgling bubbles you provided.
We play with the son, in voices of animals. We collect all the animal toys and depict which of them makes any sounds. We do the same when we walk. There we often recall the voices of birds (there are a lot of different flies nearby).
I read to my son short poems, countings, poteshki. I do massage with rhymes.
Our authors: Agnia Barto, Silva Kaputikyan, Boris Zakhoder and many others. And I really like the poems of our local author Svetlana Son. I looked, her poems are in the internet.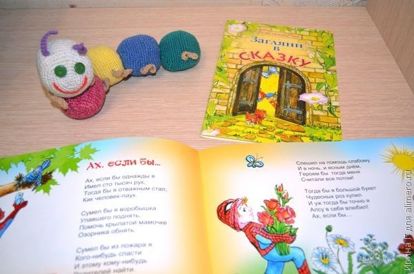 This is how we live, play and simultaneously develop speech. And we talk, we talk, we talk …
Yes, I almost forgot –
Watch your speech
As well as the speech of grandmothers, grandfathers, girlfriends and some not particularly concerned with the education of mothers from the playground. But it can happen, like my friends. The grandchild's three-year-old grandson: Do not say this word, it is bad, answered: Why is it bad? It fits to everything!
Do you think it is necessary to develop the child's speech if he has already begun to speak?