When my youngest daughter was one year old, I decided that we were ready for store-sour milk products and bought her yogurt Tyoma. Shelf life was normal, so, having tried yogurt, I boldly gave it to my daughter. But, apparently, the storage conditions of the product were unsatisfactory, because my baby severely poisoned them.
Signs of poisoning you will not confuse with anything. This is diarrhea and vomiting. My baby's vomiting began at night, then there was profuse diarrhea. After the first attack, I drank it with water, but she immediately left the body in the form of vomiting. The temperature began to rise and we, frightened, called an ambulance.
After lying in the infectious diseases hospital for 8 days, I had seen enough of the children, whom my parents brought after 2-3 days of continuous vomiting and diarrhea. It happens that parents believe that they can cope with the poisoning themselves and call an ambulance only at the last moment, when the child is already weak and has a high temperature.
I urge parents not to bring their children to this state. No one likes hospitals, but still the first aid should be a call to the ambulance or to see a doctor.
While the ambulance is traveling, it is necessary to water the child. Vomiting and diarrhea lead to rapid dehydration, because it is extremely important. After otpaivaniya you can give the child activated carbon as a sorbent.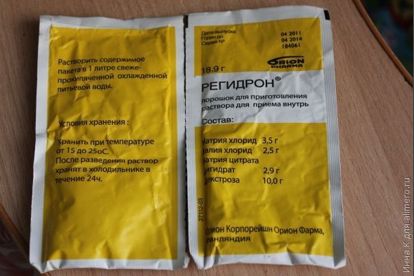 My baby vomited only 1 day, and diarrhea lasted three days. But the temperature did not want to fall. If my memory serves me, the thermometer showed 38-39 for about 3-4 days. We were pricked by some antibiotic, unfortunately, did not remember the name. We also drank rehydron and plain water. And against diarrhea took smekta.
The drinking regimen was this – every 5 minutes I poured 5 ml of water into the child with a syringe without a needle. The first days, when my daughter fell asleep, I did not wake her to drink. But then the doctor warned me that if the temperature did not drop, then I would need to put an IV, and advised me to clean the baby, despite my sleep. So it was necessary to pour water into the sobbing baby every 5 minutes.
Naturally, if a child has vomiting, it should not be fed. But when these symptoms stop, you can eat in small portions. In the hospital we were given all the stewed and boiled. Basically, cereals and soups, mashed potatoes on the water. The apples were baked.
In any case, the daughter practically did not eat anything for 8 days. We were on GV and saved only this. True, doctors and nurses disapproved of breast milk, so I do not know if I was right when I was breastfeeding my daughter. But so she calmed down, vomiting from milk was not observed, and I was calm that she was eating at least something.
I do not know how much they are holding in the hospital with poisoning, because on day 8, my nerves broke and we were asked to go home. There was no vomiting and diarrhea for this day, the temperature was asleep, so we passed all the tests and went to our walls.
Have you ever encountered childhood poisoning?