This grandmother's ultimatum I hear almost every time we get to visit her. And since the birth of her daughter. And this is neither more nor less than 5 years. I strongly resist this desire, but I'm already tired of saying the same thing.
Where the legs grow
The fact is that I myself was not brought up in strict accordance with the rules of the Christian faith. For the parents themselves, my sister and baptism was just another reason to strengthen companionship with their friends, to raise their status in their own eyes.
But these their desires did not come true. While they were making plans for this grand event, one summer, a capricious father's sister came to her grandmother, with whom we were visiting. And with the words What kind of a disgrace this is – for children for so many years, and they are not baptized! She took us to the nearest church and baptized herself.
Dad poured all his bitterness of regret not only on my aunt, but also on me, as the eldest daughter. Say, we already had an agreement with Uncle Kolya (whom I didn't remember at all and didn't know) that he would baptize me, and the whole event was planned to be held at the Vladimir Cathedral. I was offended only by the fact that unfounded claims were being made to me.
In general, I did not have the passionate desire to convert a child to the Christian faith. My husband didn't work with this business either, despite the fact that both mother and grandmother are deeply religious people. Apparently, the reason is that the grandfather-Chechen, who from childhood told him about the Muslim faith and customs, and her husband compared with what he saw in Christians.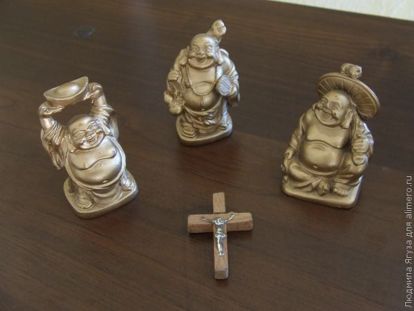 Arguments of relatives
But I did not just sweep aside the wishes of my relatives, but tried to argue my position. I cannot say that I am an absolute atheist, but I believe that faith is too personal to impose on it by force of circumstances. How many cases happened when people renounced one faith and joined another.
It seems to me, let my child grow up and decide for himself what ways to come to God and how to address him. And to baptize her only because this is the way we decide or what people say – it sounds somehow slightly unconvincing.
Then my relatives found another argument: having baptized a child, you are thus saving him from misfortunes, an evil eye and other misfortunes. As evidence cited quotes from the Battle of psychics.
I did not parry this with my husband's sensible remark: And what, did your baptism greatly help your relatives from unhappiness? The phrase of some researcher in the field of esoteric seemed to me quite convincing: What can a magician do if his victim laughs to tears in a nearby cinema while conducting a black magic session over it?
In general, our child is not baptized and we do not suffer from this at all. Or am I mistaken?