So it turns out that evenings with my daughter are spent mainly in the kitchen. I cook, she goes about her business – she does her homework, plays dolls or watches cartoons. So, the constant tail – loves to be with me always and everywhere.
With children in the kitchen is difficult for up to three years, then their energy can almost always be put into a peaceful course. I do not deny that often after such help we have to clean up an order of magnitude more than usual, but we all once learned something, and not always everything turns out right away.
This moment is the most important for me, so I try not to let my daughter go to the stove. It rarely happens that she asks for help to turn over pancakes, for example, but these are isolated cases.
Another my phobia is knives. Her daughter has her own personal knife, which, although it does not have a sharp blade, it cuts fruits and vegetables tolerably well. Such safe devices are usually sold in children's stores or on the Internet.
By the way, about cutting is a favorite daughter's occupation. In addition to the personal knife, she has her own board. And very often on our table there is a salad from the chef – ordinary vegetables or fruits, cut into cubes.
In addition to the knife for cutting, we often use a special net (remember, with the help of which olivier and vinaigrettes were cut before?). Grinding eggs and boiled vegetables on it is easier than ever. In addition, the children really like this process, and if you put a jar or a deep container under the net, you will hardly need cleaning.
Splashing in the water like, probably all children. Well, this is an excellent reason to instruct them to wash vegetables and fruits. To improve the quality of the process, I give my daughter a sponge or brush.
But washing dishes, I rarely trust my daughter. First, I don't want my daughter to get in contact with household chemicals once again. Secondly, I don't like dishwashed dishes, and the quality of the child's work is often not as perfect as I would like.
Well and thirdly, too much water gets on such washing on furniture, floor, walls and a child. Therefore, I rarely admit to washing my daughter.
Here, too, have something to do. The duties of the daughter include the layout of freshly purchased products in their places – in the freezer, refrigerator and locker for storing other products. Her favorite occupation is to lay eggs in the appropriate container.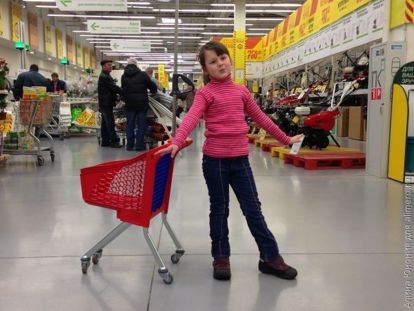 And when I cook, my daughter always gives me what I need. Excellent time savings, and you can not wash your hands every time, which is very convenient when working with dough, for example.
For cleaning her daughter has a personal inventory – a floor brush and a scoop. By the way, it is convenient for me to use them too – it is somehow more pleasant for me to work with a small brush than with a broom.
Every time after finishing the kitchen work, we sweep the floor so as not to carry trash around the apartment. It usually takes 5-10 minutes, no more. And sometimes my daughter gives me a surprise and wakes up early on the weekends to sweep the floor in the whole apartment.
I admit, I am not a supporter of children's games in the kitchen. Especially when it comes to kids who only want to break something, scatter and spill. But to deal with children of preschool age is much more pleasant. They even if they make a fool are able to clean up after themselves.
It seems to me, it is not necessary to forbid the child to help mom in the kitchen. You can always find a lesson that does not help the hostess, but will entice the child and create the appearance of work.
I really hope that when my daughter grows up, there will no longer be any need for handwashing dishes and the floor, and now I see her help simply as a way to spend time together, socialize and support the desire to help my mother, which is also important.
What do your children do in the kitchen?