We are now 2 years old and practically already 8 months old, therefore, the period of 2-2.5 years we passed quite recently. At this age, children make huge jumps in their development. Most recently, the son was lying in a crib and everyone around was impressed by his ability to smile or speak aga, then his ability to sit, crawl, and then run. And so 2 years.
I heard the first words or even syllables as early as 6-7 months. Then we had another 10-15 clear words, and a few dozen words that only my husband and I understood.
Once we went with a child for a walk, was the month of May. We have an airfield in the city, which has not been working for a long time, it became a spare for the period of Euro 2012. There were some exercises and planes flew all day. And the first long word the son had was the word plane. He said it so clearly, right in syllables. My husband and I were taken aback and asked to repeat. He repeated, and then began to repeat all the words that we spoke to him. Our birthday is in July, and by this time the son has already spoken sentences of 3-4 words.
We went to kindergarten in September, in the group they had two more kids who could talk. The rest spoke only single words.
I do not know whether the son spoke early or not. But among our entourage, he spoke one of the first. This is my merit or is it hereditary, since My husband and I, too, started talking early, I don't know. But the fact that I talked to him a lot and read since birth is a fact.
In general, in order to develop speech, the child must be introduced to the environment, professions, animals, and human facial features.
I know that the development of speech directly depends on the developed fingers of the baby, i.e. fine motor skills. Here you can use a lot of games. These are games with beads, groats, lacing, constructors, labyrinths or wooden frame inserts.
Informative development is also important at this age. I want to tell you the main activities that we conducted at this age.
We bought a series of smart books that helped us a lot. They are sold for different age categories, then we have chosen for children 2-3 years old. According to it, you can acquaint the child with forms, teach them to distinguish objects by shape or size, sort them, find extras.
Also, the shape and colors can be studied on various sorter. And we made one ourselves. They took a shoe box and cut out circles, squares and just small cuts. A ball was lowered into round, square cubes (dice) were lowered, and coins were lowered into the slot. This is also good for the development of fine motor skills and for the study of forms.
And to study the values, you can also use pyramids and dolls, which will teach not only forms, but also a comparison of the figure.
Learning can also be considered with the help of books or counting sticks. But we did best on fruits, cookies, or crackers. So we first learned how to count to 3, and now to 10. And, as the figures look, we learned much later.
Communication with children
Another very important in this, and at any age is communication with children. Indeed, in the team they learn much more willingly, and they absorb information like a sponge. So the child becomes more independent. For a very long time my son was very tame, he reluctantly went to someone and cried after me. Sorry for the detail, but he even wrote on the pot only with mom. And here once, when I visited his girlfriend for the first time, I heard myself. And the situation was connected with the pot.
With children, he begins to distinguish between good and bad deeds, careful and friendly attitude towards all living things. You can teach a child using the example of older children to share, learn, sympathize, regret, etc.
Drawing and music
The first attempts to draw appeared at our age. The son could at least 5-10 minutes to do something alone. Previously, we only had pencils and felt-tip pens scattered around, and the albums were torn to pieces. It was also at this age that we learned how to sculpt sausages, balls, and play with figures that parents had blinded about, everything just broke before.
At this age, the child is very good to inculcate the love of music. They begin to consciously listen to melodies, choose your favorite ones and make their first choice. We have one book with songs from Soviet cartoons, and my son and I sing together, he already knows many lyrics by heart.
What kind of child does not like to dance? At 2 years old, it's time to teach a child to repeat movements, convey the nature of music, its tempo.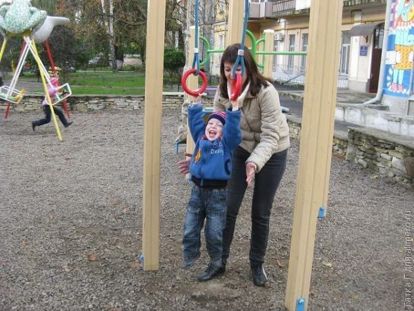 How many pranks do children make, beat dishes, break toys. But you can try to direct the energy of the child in a peaceful direction. To occupy him with outdoor games, exercises on the ball, let him hang on the wall or horizontal bar, of course, insuring him. Learn to jump from a small height, run in a given direction, changing it abruptly, jumping over an obstacle, catching up with adults.
At this age, you can give the child the opportunity to wash himself or brush his teeth, eat or dress. I'm not talking about sophisticated clothes, but you can put on slippers or wear panties. Also give the child to choose for himself, for example, what he will wear a shirt or pants.
Teach you to brush your hair every day, use a handkerchief, a toothbrush, and, of course, ask for a pot in time.