Recently, guests gave their son a set for creativity, with which you can make fridge magnets. My son loves various kinds of crafts, so he was very pleased with the gift.
We have often sculpted figures of salt dough, built a cardboard house and made toys for the Christmas tree. He was always happy to follow my instructions. To do crafts he likes.
What's inside?

The contents of the box also pleased, it was: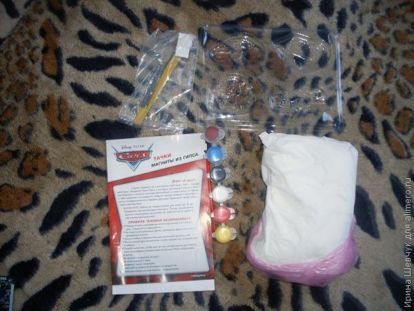 1. Instructions, clear and intelligible, with step by step photos in the first stage. It contains safety regulations, work flow, first aid.
2. Form for pouring figures out of plaster. One minus – very fragile, made of thin plastic. It is designed for one use. If you work carefully, you can buy a plaster (alibaster) and pour more figures (as we did).
3. A bag of plaster. The mixture is just enough that was enough for 4 cars and not an ounce more.
4. Paints, 6 colors. I thought gouache, I was mistaken acrylic paint. They look very beautiful, with glitter.
5. 2 magnetic strips with adhesive tape.
6. Brush, double sided tape, disposable cup and spoon.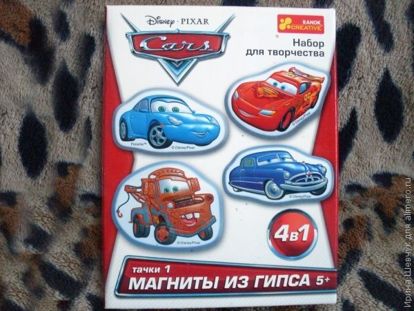 In addition to everything, we also needed a palette to mix colors, because besides the primary colors of paints we used green, orange, blue and gray.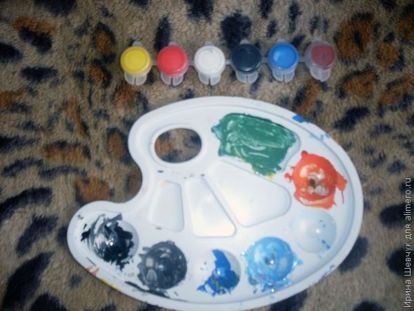 Go!

Gypsum mixed with water itself, did not want her son to breathe dust. He trusted to pour into molds and level the surface. It turned out a little crooked, although the son tried very hard to do it neatly. Gypsum quickly hardens, I did not work out the irregularities.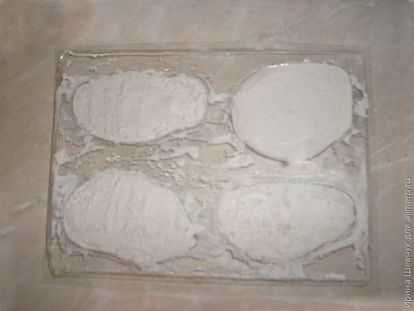 There were figures in the mold for about an hour. After we carefully laid them out and left for a day to dry. The next day, they completely dried out and became almost weightless.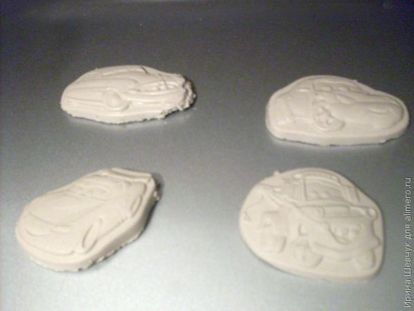 It's time to take up the paint. With great interest, my child prepared everything he needed: he covered the table with an old oilcloth, put the paints on, prepared the brushes, took a glass of water and set to work. I just have to watch him. My help was needed only when mixing paints, the rest he did himself.
Result

Magnets with their own hands turned out great! Now they show off in our fridge. Son proudly shows them to all the guests. Such an activity he liked. Son wants to give souvenirs in the form of gypsum wheelbarrows to his friends. So, I had to buy another bag of plaster and please my child.


Did you buy such sets for kids?