Due to the fact that young Velasquez appeared in our house, I would like to elaborate on such a pleasant and rewarding time as painting with colors. Useful, because it develops at once a lot of things (fine motor skills, coordination of movements, sense of color, etc.), but a pleasant one … ask the child 🙂
With the appearance of paint in our house, the child did not even want to go outside. With difficulty we pushed at least to the store to go buy kiwi mum, but he took the brushes with him 🙂
So, how to make a colorful leisure bright and varied. Firstly paint yourself! I really want the child, but he still does not know how to. Show, give him an example. Start with simple shapes and the fact that the child loves (we have transport in high esteem). At first, it will only complement your paintings with its elements. Teach your child simple simple drawing lines: grass, road, wave. He will be more interesting to contribute to the picture.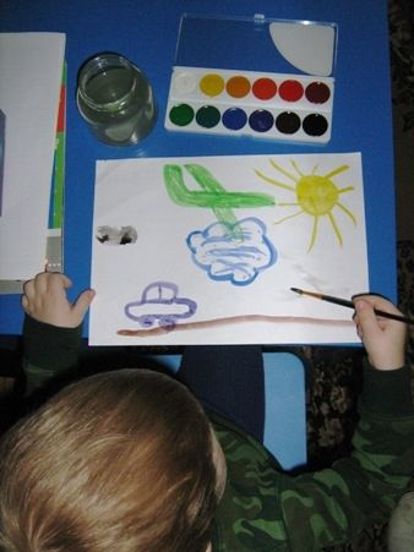 In order not to dwell on the same thing, take coloring. It is important that these are large figures with clear fat outlines. It will be easier for the child not to go beyond the line. If a painted picture (sample) is drawn on the next page, it is generally great.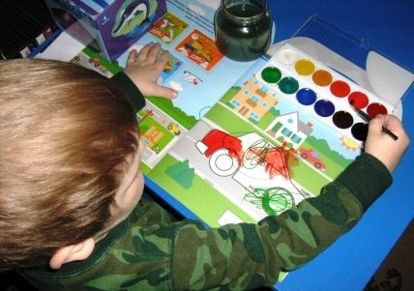 Stock up on paper in advance, do not throw out the written sheets – on the back you get beautiful pictures! At first, the child paints very quickly, then begins more and more carefully. We change the lesson – take a sheet and draw an outline on it. The child should paint it. At first, these should be simple and large figures – an apple, a balloon, a cloud, a cherry, a pear, etc. Further we complicate the task – draw the outline with the color the child should paint (blue house, green roof, yellow mushroom, red hat, etc.). On one sheet you can already draw several objects united by one thought. Ok if the child himself can finish what he can (waves, sun rays, etc.). Show imagination and let the child show it yourself.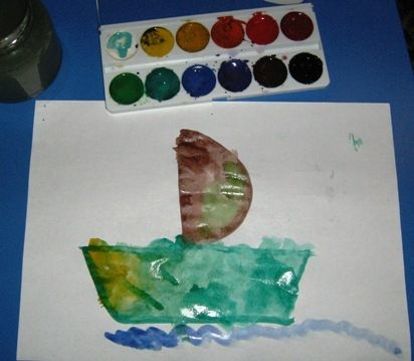 By the way, while your Velasquez is working, you can have time to do a lot of things around the house 🙂 The main thing is to change the water more often and make sure that the painting does not go beyond the boundaries of the canvas.
Do your kids love to draw?