My beloved joy is already four with a tail. In all this time, a thousand toys were in the hands of a child. And this is not an exaggeration.
From rattles to designers, automata and astronauts

Today I will not dwell on educational games. In my opinion, this is already an integral part of the education of a holistic and active, developed personality. So, all sorts of interesting puzzles, colorings, constructors and puzzles we have a car and a small cart. And besides them …
The child has a separate cabinet shelf in the closet, where all the toys are folded. Often, I can not remain indifferent, looking at these dark innocent eyes, when my mother froze her lips, please, please. The son inaudibly plays with new fun from fifteen minutes to a couple of hours, after which the toy goes into the world of forgotten things.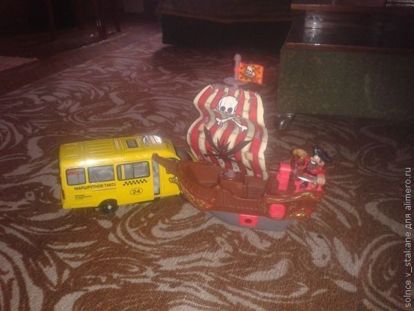 We now have a broken tower crane in our collection. A separate story is associated with it. This large object in the growth of the child itself was presented to him on his grandmother's birthday. While the child was in the garden, my relatives and I went to the toy store beforehand and went there for a good couple of hours.
I note that the son initially begged my rocket with the astronauts. I ran around almost all of the children's stores … and nothing. You will not believe it, but now finding a rocket is almost an impossible task. The only option that I was offered was a huge Lego designer for a few hundred parts out of which one could assemble this rocket.
Since I was already insanely tired of walking barefoot on the children's constructor, I immediately rejected the idea and continued my search. In the end, luck smiled at me. In one of the shops I did find a set – small figures of astronauts (about the size of a surprise from a chocolate egg) and in the level of them a space shuttle, a rocket, a satellite and moon rovers. And this happiness costs almost 10 dollars. For a few pieces of plastic the size of my finger that kind of money! But, kid wanted a gift – so be it. Birthday, after all.
The grandmothers continued their search and stumbled upon a tower crane. I did not take the idea, but my grandmothers were firm in their decision. Their business – let them buy and give. As a result, a little more than $ 30 was given for this miracle of someone's greed and plastic fragility. For toys – this is big money.
Anyway. In general, by coincidence, the grandmothers gave a gift on the eve of the birthday, and I decided to postpone it until the due date. And so the kid runs to hug the grandmothers, they kiss him and lead him by the handle to the room. The son in the insane hope of a rocket with astronauts enters the hall and sees … a tower crane. Big, beautiful, on batteries, with a yellow construction helmet, but so unnecessary …
The son had such a face that he was cruelly deceived, offended and betrayed at the same time. And with the naked eye it was clear how unwillingly he pressed the buttons on the remote. And then he turned to his grandmother and, looking into his eyes, asked him to hide the tap back into the box, because he did not want to play with him.
And my mom's face … She literally died. Restrains tears, anger, resentment. And I see that she wants to break this crane right now, throw it out the window. And the child is not to blame. He still does not know how to lie and pretend.
The next day, the son received a long-awaited astronauts with missiles and satellites. There was so much delight that it was impossible not to be moved.
And the crane still stands in the corner of the room – he never turned on his son. Sometimes I just wore around the room, either wanting to hide out of sight, or using toys for purposes unknown to me. As a result, the crane was hopelessly broken at the very base.


Throw this miracle, when less than a month from his purchase, I just did not raise a hand. So I tried to reanimate it, primotav parts to each other with a layer of scotch. So there is this lame miracle in the corner to this day.
The astronauts, however, were forgotten just as soon. Sometimes it gets them in the mood, but no more. Now our favorite toys are those that did not come across at least a couple of weeks. But in general, do you think it is worthwhile to gradually wean the child away from toys? Or is it too early?