Today I want to tell you about my favorite books of my 3 year old daughter. I try to choose children's books carefully, especially paying attention to the quality of illustrations. Previously, it seemed to me that there was a huge selection of excellent children's books in stores, but later I realized that choosing a book with good and age-appropriate pictures was not such an easy task.
So, here is a list of our favorites for today.
Richard Scarry City of good deeds and a book about good behavior (Career Press publishing house)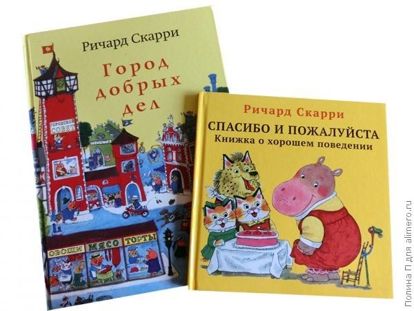 These two books firmly hold the palm since they appeared in our house. The first was the book City of good deeds. My daughter liked it so much that every night before going to bed I had to read the chapters from this book already memorized.
All my attempts to offer to read something else ended in a scandal. Honestly, I'm already quite tired of this, so I decided to change the repertoire a bit and bought a new book by this author. Well, now in the evenings we read about polite piglets and worm Lowley.
Actually, I have a complaint about the books by this author. Too clumsy translation into Russian, too foreign names of the main characters, too little text and it's some kind of dry … But the child himself is delighted with these books.
A. Tolstoy The Adventures of Buratino (AST Publishers)


This is not a complete version of the fairy tale about Buratino, but an adapted version for young children. The text is small and it is understandable for a 3-year-old child. Magnificent illustrations of Leonid Vladimirsky, which occupy the bulk of the book. Perhaps only Buratino now for us can compete with the books of Scarry.
V. Suteev Little Fairy Tales (AST Publishers)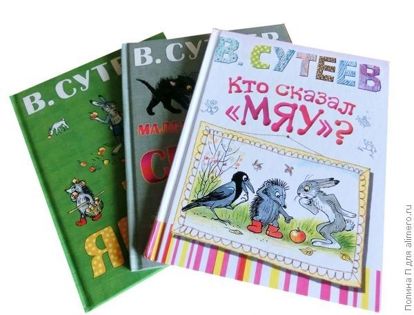 I love Suteeva! I think this is a classic for children of younger preschool age. Suteyev's tales themselves, as well as illustrations in his performance, are familiar from his own childhood. I do not like big collections, where there are a lot of fairy tales and few pictures. The format of these books, where 3-4 tales and many pictures, I think the most successful.
E. Charushin Animal Stories (Akvarel Publishing House)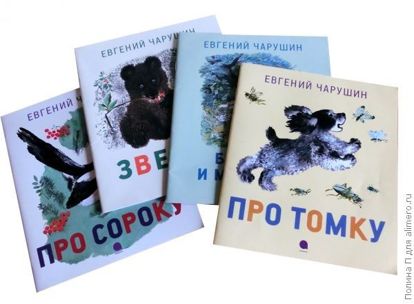 Tender, kind Charushin stories about animals and nature. The illustrations in these books are not striking, the text in some places is a bit too much. At first I was afraid that my daughter would not be interested. But my fears were in vain, she listens with great interest to these stories.
It even seems to me that they have a slight calming effect on her. The most beloved daughter collections are about Tomka the puppy (Nikita the Doctor especially likes the story) and Animals (Volchishko and Lisyat's stories).
The format of the books is very convenient – they are small, lightweight, with high-quality coated paper. A great option to take on the road or, for example, to the clinic.
On this, I think, I'll finish my long topic, because give me free rein, I can write about books infinitely long. Of course, if someone likes it, I can write a sequel. And I really want to know what your children are reading (or reading) at this age.