Any age of the child often presents us, parents, surprises. And, alas, not always pleasant.
My son has reached the age when any word or expression is repeated with special admiration. Each new word causes him a storm of emotions, and if at the moment of pronunciation the attention of others increases, most likely, he will repeat it for a long time.
Well, if so baby remembers the names of animals, objects and natural phenomena. And if these words belong to the category of obscene language, more simply – abusive expressions? What should my reaction be to not encourage such an interest? I think the most important thing available is to explain to a child how insulting to others such expressions can be.
I work in advance
As far as I could notice in my children and children of my acquaintances, most often the interest in expletive words appears at the age of 2, 3 years. Therefore, even before my daughter, and eventually my son, began to utter my first words, I started to re-educate myself, my spouse and his friends.
Even before the birth of children, I didn't welcome speech pollution with rudeness and abuse. And having become a mother, with even greater zeal she began to gently but persistently correct her lover, if he used bad expressions. In the same way, I tried to control our friends. Having established a rule – the prohibition of abuse in our house, I jealously watched its implementation.
Maybe many people didn't like it very much, but the results of my tactics made me happy – in our house, the abuse began to sound much less often. And if our kids still witnessed an emotional conversation using harsh words between adults, I took them to the side. Well, and then she explained that it was not good to say such words, and the adults made a mistake.
Explain the meaning of words
Then the most difficult task is to explain the meaning of the words he heard to the child. As you can imagine, this is not easy. And then I came up with a good solution. If a bad word was addressed to a person, we would invent another, less offensive option, a cactus or a hedgehog – which was the first to come to mind.
But after all, there are cases when the mat is pulled out in response to a setback or painful sensations (a blow to the finger with a hammer). Here it is quite difficult to restrain emotions. And even if the child heard this surge of emotions – it was necessary to explain why an adult put it that way.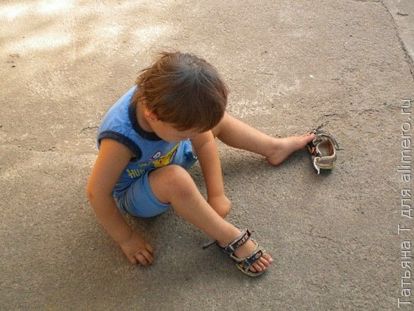 An interesting incident happened with my daughter when she was 3 years old. Once I came to take her from kindergarten once again. A smiling teacher came out to meet me and told me how surprised my tiny one was. One boy, for all, said an abusive word, and my girl shamed him, saying: You can only talk like that when the car cannot be fixed!
So much for the children's logic.
And you explain to children what words and why to speak is indecent?