Massage is useful for everyone: for children and for adults. But for kids, it is shown especially. The first time my youngest daughter was appointed at the age of 1 month. Then up to a year we repeated the course 3 more times. And now we have mastered the basics and are doing it on our own at home.
If we talk about back massage, it helps to normalize the activity of the nervous system, improve blood circulation, and also perfectly relieves tension in this area. Finally, he simply helps to relax and sets the child to sleep (if it is stroking movements).
And still massage is an extra reason to cuddle a baby and touch it. Ultimately, this strengthens the emotional connection between the child and the mother, contributes to the development of a sense of trust and mutual understanding.
Massage in the form of a game
I have long noticed that if you want to achieve something from a child, turn it into a game. The same with massage. It is unlikely that the baby can just lie on his stomach, not moving. And if you turn it into a game, then there will be no limit to joy, and your child will ask you to massage it.
Up to a year, toys acted on her daughter, and she could deal with them. But now you need to stand on his head, so she lay down. I usually suggest that my daughter listen to a fairy tale and start telling a story, and with my hands on the back I illustrate it. I used to do this to my eldest daughter, and the main character of all the stories was a kitten.
The younger one has other heroes and each fairytale is necessarily associated with Fixico. And in the fairy tales she appears as well. Such mini-stories go with a bang! The daughter is delighted and asks to tell more.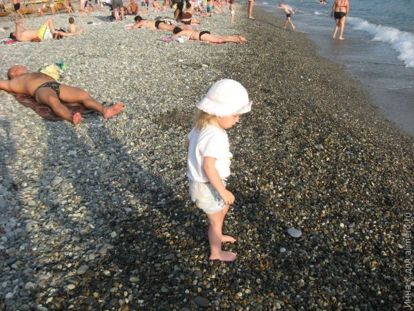 I am not a professional massage therapist and I do only what is obtained. I usually use techniques such as rubbing, stroking, kneading and light tapping. To make your hands easier to slide, I lubricate them with baby oil.
Daughter is lying on her tummy and I start with stroking. Moving up from the bottom. Particular attention should be paid to the lower back. Then you can rub the back and cut it with the edges of the palms. Then I pinch my skin and rub my back with wide fingers. This movement is called the Rake. In the end I pat my fingers on the back and finish the massage with strokes.
That's all, useful and pleasant. 🙂
Are you doing a back massage for your children?