My daughter is not yet 2 years old, and she has already begun to actively show her character, her resistance. She enjoys no particular popularity. So, recently this word I began to hear from her more often than any other.
Sometimes I understand why she says no, but sometimes it remains a mystery to me.
Clear no
Our grandmothers and grandfathers simply adore when a daughter calls animals, pronounces their sounds. At meetings, they first ask her to say a dog, cat, cow. She used to say, but now she always responds to a request with one answer – no.
Basically, I understand that. Such a reaction can be explained by the fact that it is no longer interesting for her to say the same thing every time.
Often, a negative answer sounds when she does not like something. For example, when asked to throw a piece of paper in the bin, she certainly says no. Of course, why throw something away if you can play with this item?
No beyond my comprehension
Sometimes a daughter has such an active desire to say no, that she begins to answer like that, even if she does not want to say that.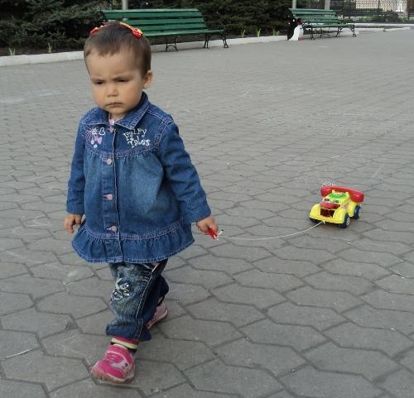 Judge for yourself. We are returning from a walk, and I offer my daughter cookies. In response, I hear no. But I know that she loves sweets, so this answer surprises me incredibly.
At first I decided to persuade her. Explained that the cookies are delicious. But it was not there. My daughter was adamant. Then I began to agree with her: no, no. The baby cried at the thought that she was left without sweet. But! Still not in a hurry to agree.
10 minutes passed in her no, which was accompanied by bitter tears. I decided not to tell her anything anymore, but just put a cookie next to her and went into another room. And the miracle happened! She grabbed this cookie and began to burst. But why it was necessary to say no, I did not understand.
No less surprising was the case yesterday. Again, they returned from a walk, and the daughter did not want to get out of the carriage. I had already changed clothes, began to do household chores, and my daughter was still sitting and did not forget when she saw me once again say no.
I just did not touch her for the sake of interest. She sat in a wheelchair for 30 minutes! Why??
How to respond to baby no?
For myself, I decided not to try to persuade the baby. No, no. Let her realize what this answer leads to. Maybe he will understand that this is wrong. And, maybe, I will understand that she is right, and to sit in the same wheelchair for 30 minutes is a very useful occupation!