It is simply impossible to refuse to walk in the fresh air on an unexpectedly warm and sunny day in a picturesque autumn park, especially if you plan it in advance on a day off with your whole family …
And the benefits of such a wonderful pastime can be, and you need to get the most. And above all, it is getting aesthetic satisfaction from what surprises and pampers us so far in colorful November. Not be superfluous and some joint happy shots in the family photo album.
It's great, especially if weather conditions allow, to organize a small picnic – a thermos with hot vitamin tea and several tasty sandwiches will certainly be very helpful, but they won't take a lot of places in the bag … And the fact that the kids will never give up on having a snack in nature, knows each mother, so in such conditions there is another opportunity to feed the kids with something as useful as possible.
From the point of view of the development of children, it is useful to tell about the order of the seasons, their characteristics and tell us exactly what makes us happy about autumn. In addition, autumn foliage is a very accessible and interesting material for learning or repeating colors. You can rustle with colorful leaves, rush them and, of course, collect a small bunch of herbarium. Well, the little women of fashion will be unspeakably happy with the original wreath of autumn leaves or bright beads from bunches of mountain ash.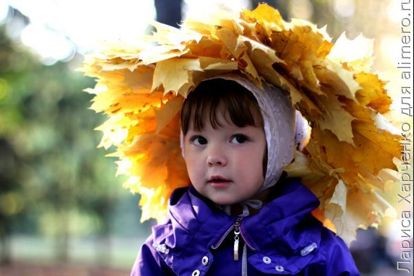 But in memory of the last warm autumn days of the year, with a little imagination, you can make an interesting colorful vase for your wonderful autumn bouquet of maple leaves …

And you need very little to do this – cut the carton of milk or kefir, and also equip yourself with colored paper, scissors, glue and various natural materials (cereals, beans, seeds, rowan berries).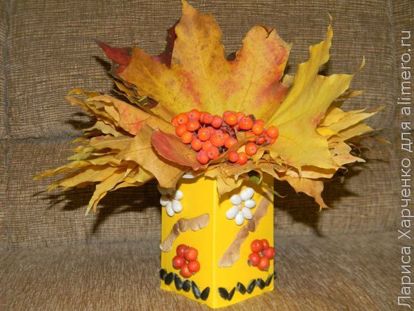 And kids, I am sure, with great pleasure will help you.