In our kindergarten during the school year, three events are usually held – in honor of the fall, the New Year and March 8.
This year the holiday began in advance – from the exhibition of autumn crafts, which were sponsored by children and their parents. Almost all the children quickly implemented their creative ideas, and someone even brought huge pumpkins with slots in the manner of Halloween.
Unfortunately, almost 2 months in the kindergarten there was no music director, who is responsible for organizing and musical accompaniment of events. But, fortunately, he was finally found, and the children had only 2 weeks to prepare for the performance.
Parents were informed beforehand that it was necessary to prepare Ukrainian national costumes for children, and girls should bring umbrellas for dance rehearsals to the group.
In this regard, we are very lucky, because just a few months ago, a friend (mother of an adult girl) gave me her daughter's Ukrainian costume as unnecessary. My baby tried it on more than once and was constantly interested in when she would become Ukrainian.
Other parents were concerned about the search – for boys they needed satin trousers and embroidered shirt, and girls needed a red skirt, embroidered shirt and a wreath.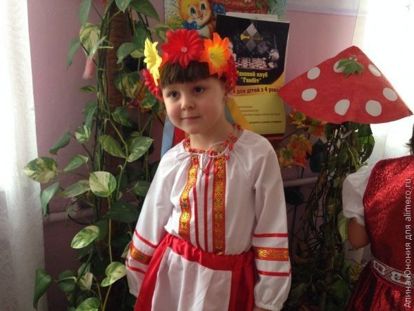 Many mothers turned to agencies that provide carnival costume rental services, where they cost about 240 rubles a day. (60 UAH). Later it turned out that you can take the costume directly to the kindergarten – already for 120 rubles. (30 UAH).
There was also a homework – to learn the verse. We got the product about autumn on 4 lines. My daughter and I decided to supplement it with some gesticulations; we paid attention to the voice intonations.
Every day, the daughter stubbornly crossed out and counted the days in the calendar as if it could bring such a welcome on November 8th. By the way, on the same day my husband and I got married;)
The day before we went to bed early, so that it would come faster tomorrow, we woke up early in the end and came to kindergarten half an hour earlier than the appointed time.
Due to the fact that several children suddenly became ill, the teacher had to alter the script a little on the spot, which they did while the adults waited in the assembly hall.
One of the parents in our group is responsible for photographing (then everyone gets a CD with photos), so we were not distracted by phones and cameras.
And so, the doors opened and our children came in – each carrying yellow leaves in his hands and sang a song about the fact that even though it was not summer, the sun still had a place in our life. Then there were the poems and the dance of little pumpkins (it was performed by boys).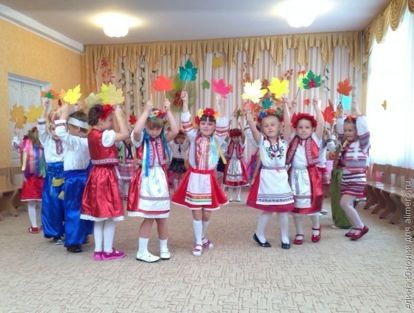 After that there were a few songs, a dance with umbrellas and incredibly tender, benevolent and childishly wonderful wishes to parents, on whom many adults, including myself, had tears in their eyes.
It is good that the Ukrainian dance of children with their parents was further down the script, which allowed me to sneak my eyes away in the confusion. And indeed, tears to anything, this is just a children's matinee on the autumn theme, and not even a holiday primer. Although I had reasons, suddenly for some reason, memories of the events of many years ago were flooded over, especially as the registry office where we entered into a marriage, ironically, is 30 meters from the kindergarten.
As gifts, we prepared apples and pears for children in advance; it seemed to us that this is the best option for the autumn theme, and not as trite as candy.
Of course, the holiday was a success. Both children and parents got great pleasure. After all, where else can you find such sincerity, dedication, feelings, spontaneity, naivety and gleam in the eyes!
Do you have a fall holiday in kindergarten?