It seems that quite recently she was still very young and quietly snuffled in a stroller. But time flies and my dotsya is growing by leaps and bounds. Already 5 years old! A little more and begin: school, boys, first experiences and more.
I will not think ahead, but rather tell you how we celebrated the first daughter's anniversary.
Since my daughter has a birthday in early July, last time we celebrated on shish kebabs with family. Yes, and children were quite difficult to collect. All usually leave for the summer holidays who where.
This time it was decided to arrange for her daughter a full celebration with the children in a cafe, not far from home. The place we chose was distinguished by reasonable prices, the presence of a summer playground, a playhouse and a swing for children. In addition, in the cafe of Italian cuisine worked my friend, who made a discount and prompted with the compilation of the menu.
Made a list of invitees, there were about 7 children and 10 adults. On holiday came 6 children and 7 adults. As always, someone failed. Most importantly, the children were happy and adults too. It turned out that the guests consisted of mothers with children, there were no husbands except mine 🙂 One and so many ladies!
It was decided for the children to set up a separate table, for adults separately. On the table there was a compote, a big pizza and, of course, a cake. And thats not all eaten, eaters. For adults there were cold appetizers and salads, pizza and wine. Nothing superfluous and everyone was fed up.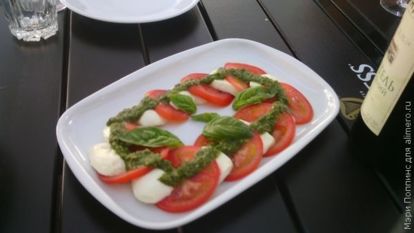 Pleasant financial side
1. We brought a drink with us, which is important. You know that the cost of drinking in a cafe, even the average level is much higher than its value in a supermarket, for example.
2. I made the cake myself. It turned out very tasty honey cake, which was liked by both children and adults. Also taken with them. If I made a cake to order, it would have cost a pretty penny. And what is most important for children? Blow out the candle and be decorated beautifully.
3. Familiar waitress made a discount. And the prices in the cafe were reasonable. I didn't even expect us to meet this amount.
4. Since my daughter does not like animators very much and reluctantly participates in competitions, I initially decided not to invite them. And not sorry. Children entertained themselves on the street and inside the cafe. Someone rode on a swing, someone played in the house, and someone drew in the corner for children. No one was absolutely bored.

5. I knitted crochet clothes for my daughter. I did not have to wrestle with looking for a dress and spend money on it.
My husband and I did not regret at all that we had arranged such a holiday for our daughters. Albeit a small, but still an anniversary. All guests were satisfied and satisfied. And my daughter was delighted with the number of children and gifts!