Last summer, our daughter turned 2 years old. We have long thought about how to celebrate a birthday. I wanted it with relatives and with my daughter's friends.
In the end, we decided in the morning to go to the children's entertainment center with the children and their mothers. And after lunchtime, invite relatives to visit. And yet: we have prepared a surprise for our daughter – a home photo session.

Apartment decoration
Early in the morning, while the daughter was still sleeping sweetly, my husband and I decorated the apartment: inflated balls – some of them hung on the walls, and the rest were simply scattered on the floor, and hung the inscription Happy Birthday. When my daughter woke up, we told her that a fairy came and decorated our house, since today is a big holiday – Ksyushenka is 2 years old. My daughter was busy with balls for a long time: she ran after them, threw them up, kicked them with her legs.

Children's entertainment center
After breakfast we went to the children's center. I must say that this was our first visit to a similar institution. Daughter's delight knew no bounds! Still: here and slides with all sorts of climbing, and a real small house with a kitchen, and such special things (easels, I mean) for drawing and a lot of other interesting things. They got mad, of course, great.
Tired and hungry we went home. After dinner, my daughter immediately fell asleep. At that time my husband and I were preparing a festive dinner for adults: Uzbek pilaf according to the rules – with vegetables, pickled onions and green tea.

PHOTOSESSION
About an hour before the arrival of the guests arrived the photographer. This lovely woman created a miracle right before our eyes: our daughter, who cannot be forced to do what she doesn't want, posed with pleasure with different accessories – soft toys, balls, soap bubbles, and fruits.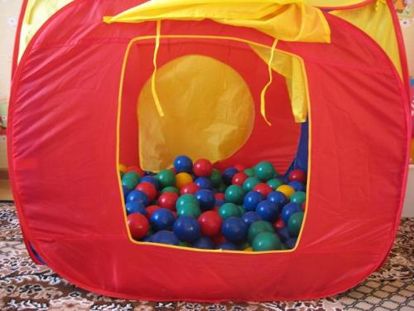 Finally, the long-awaited guests arrived. At first, we all together dance. And then began the distribution of gifts! I thought over the list of gifts in advance, so everything was not only interesting, but necessary: ​​a tent house, a pool with colorful balls, a flatfoot prevention path, a set of Hostess (mop, brush, dustpan, dust brush), inflatable animals and many more just different. My daughter got carried away with gifts so much that she completely forgot about food. But we, adults, had time to eat and listen to a bunch of greetings.
Then my daughter fell in love with the goodies, and the games began. I didn't organize contests, as there were no children – only adults. What did we do? Blowed bubbles and in the usual way – blowing them out, and using a frog – a device on batteries, dip it into liquid, press a button, and it releases bubbles in huge quantities. Fun was the sea!
When the bubbles got bored, we played horses: grandfathers took turns on all fours and portrayed horses, and my daughter jumped at them with a cry of the yoke.
After that, we updated the host set. Grandmothers together with the granddaughter diligently cleaned the nursery. Someone was sweeping, someone was washing the floor, but someone was wiping dust.
I almost forgot: during the whole holiday, grandparents and aunt and uncle (who are godparents at the same time) wrote wishes to our Family Chronicle – a special diary, where the main events of the daughter growth and development are recorded.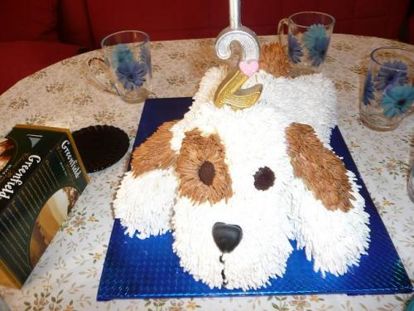 After an improvised harvest, we moved to the culmination of the holiday – eating the cake. We had a wonderful cake: just like a real puppy, so cute and fluffy. I ordered the cake from a familiar girl, so it was not only deliciously delicious, but also harmless. The daughter, as it should be, blew out the candle and even ate a piece.
After tea we went to accompany our dear guests. Everyone was happy and contented. And the daughter is the most!

Now I am actively preparing for the next birthday of my daughter. And it is just around the corner: on June 23, we will be 3 years old!