My daughter will soon be 6 years old. This summer, she felt grown up. It was in the summer that her first independent walks in the yard took place.
Immediately explain why I did not walk with her. Our yard is not suitable for walking with a stroller, and the youngest daughter was only a couple of months old. Grandmothers sit on the benches, who don't want to make a company (they immediately get a lot of questions and moralizing). And the playground is so small that there is not even a place for playing kids. Only one shop and a sandbox in half a meter. Sand flies in the face and in the stroller.
The younger daughter slept in the stroller on the balcony in the morning, and in the evening, when the heat subsided, we went out for a walk outside the yard with the whole family. Happy oldest daughter at home was boring, because from the courtyard came the voices of her friends.
At the family council, it was decided to let her daughter go for a walk. Our yard is quiet, cars do not drive, strangers do not walk. In addition, on each bench sit all day grandmother, in whose eyes I grew up. They know each child, they look after them with pleasure while walking. Our windows face the courtyard and the playground is right in front of them.
My daughter had learned her home address, home phone number and her full name by that moment. We did not let her go for a specific period of time, but simply discussed that she did not leave the yard (the house was small, 4 entrances), and when I first screamed from the balcony she went home. She never violated these rules.
If a company of strangers appears in the yard, my daughter was told to go home immediately. And if someone from strangers turns to her with any question, answer: Sorry, I do not know and go away to familiar people (the same grandmothers on the shops). If, God forbid, the stranger will persevere, the little girl was told to scream. Loud. She is a smart girl (I would even say that she is an adult over the years), so I immediately understood what was happening.
And this day has come. Daughter herself went out into the street. Several of her friends played in the courtyard, and on the bench at the entrance were elderly neighbors who immediately asked where Tanya was going without adults. Of course, the daughter with a proud look said that she is now an adult and will be walking alone.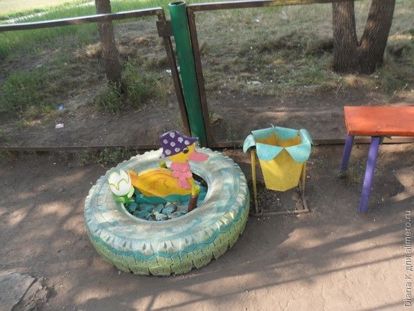 While my daughter was walking, I went out onto the balcony every few minutes to make sure everything was in order. My daughter's voice is very loud and loud, so when I opened the balcony, I heard her very well. But when there was silence, it seemed to me that something had happened (it was too strange that my talkative girl had become silent).
Since then, the daughter walked herself. She never left the yard and we had no incidents. When autumn came, independent walks were over. We come home at a time when it is dark and there can be no talk of independent walks (although some kids walk in the dark without supervision of adults).
Do your children walk outside on their own? At what age did their first independent walk take place?