I remember how I came from the parents' meeting in kindergarten. Glad we were taken. It was in May. We were told to go to kindergarten from September. And all summer I have been preparing my daughter for kindergarten.
Now many people ask me what needs to be done and what is not. And I decided to write here. Maybe my story will help someone prepare their child for change.
In the garden, we were immediately told that we need to make a baby examination card. Without it, we will not take. We have been examined by many doctors. Now I do not remember exactly, but the pediatrician will tell. Therefore, I advise you not to postpone, but immediately make this card. We issued it in June.
We also passed the necessary tests – urine, feces, blood. And we were vaccinated. Moreover, many vaccinations should be done just 2-3 months before visiting a kindergarten. This is also explained to us by a pediatrician.
Sadikovsky regime practicing at home
We started to get up at 6:30. At 7 o'clock we went for a walk. This time is just on the way to the garden. At 7:30, they came home. Breakfast at 8 o'clock. Lunch was at 12 o'clock, and sleep in the afternoon from 13 to 15 hours.
I did not know the exact daily routine. But it was this mode that helped us adapt to the kindergarten mode.
The most difficult preparation procedure for us is the weaning of a daughter from diapers and potty training. At the meeting, we were then told that the group would be large, so the tutor would not have the opportunity to change all diapers.
And, you know, we did it! Daughter – a little clever! She by September had learned not only to ask for a pot, but also to suffer a little when needed.
Do you want to eat – learn to hold a spoon
So says our dad. At the daughter the spoon with food always strives to fall or roll over. But I decided that I would not feed her. How many can eat itself, eat so much. But she learned quickly enough.
Literally in a couple of weeks, the daughter ate herself and the soup, and the second. True, at first she ate only a small spoon. Then we bought a dessert, and to the kindergarten she was already operating a big one! So, mommies, take a note!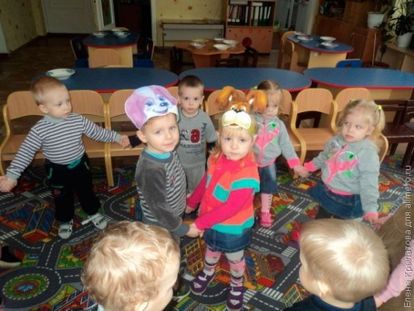 Nasty tights
Dress daughter studied in advance. As soon as she began to walk, she immediately learned to wear socks. Then we taught her to take off and put on T-shirts, dresses, jackets. But the tights did not give us!
With pantyhose, we had a lot of torment! I remember my daughter puffing-groaning, trying, sweating all. And tights resist, twisted. So she went to kindergarten. Tights learned to wear only after a year when she grew up.
Hope my story will be helpful. Maybe I missed something. Write how you prepared children for kindergarten? What difficulties did you encounter?