When my daughter was two years old, I thought about how to teach her to help around the house. Many mothers will criticize my opinion on this matter, because not everyone wants a small child to bother about the house. I want to say that my goal in this matter was not at all relief of life.
We motivate the child to help
Around this age, I began to notice that my daughter largely imitated adults, especially she liked to walk with a handkerchief at the time when I rubbed dust from furniture, and rubbed a children's table with a focused look.
I tried to encourage her desire and gave an adult cloth for dust. Since then, my daughter has become my real assistant. Each time it is cleaned, only she wipes dust from low surfaces. We can say that it was her pleasant duty.
Soon my daughter will be five years old, and the number of her household duties has increased. She puts her clothes in the closet, takes the clothes to be washed in the bathroom, keeps her toys, books and stationery in order. For her drawings, I singled out a special folder where she puts them without reminders.
Of course, there are times when the baby is not in the mood and refuses to help me in anything. I behave differently. If it concerns toys, clothes or other personal things of the daughter, then she will still fold them herself, albeit a little later. In other matters, I offer help.
No cooking is complete without a little help. She likes to wash the dishes (of course, something small and not greasy), cut food and knead the dough.
A little tricks won't hurt
Probably, every mother is familiar with the situation when time and energy is very small, and the little assistant snatches a broom from her hands and tries to sweep the floor on her own. Mom is angry and does everything herself, because after the child you still have to do it all over again.
This situation is familiar to me not by hearsay. My daughter takes on any job: she wants to wash the floor, vacuuming and watering the flowers.
I do it this way: I instruct her to do one thing, for example, to wipe the dust, and at this time she's vacuuming herself. Then we change: my daughter is vacuuming after me, and I wipe the dust where my little curious pen didn't get.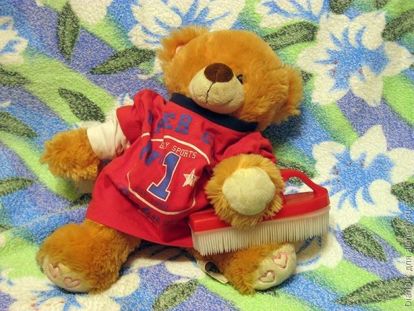 This weekend there was a case that prompted me to write this topic. My daughter woke up earlier than adults, dressed herself and quietly went from the bedroom to the hall.
When everyone woke up, they saw a contented baby with a rag for dust in her hand, which told us that the room was dirty and she decided to do the cleaning. She was not limited to dusting. It was removed in her closet with clothes, on the writing desk, where pencils and coloring remained in the evening and in the closet with daughter toys and stationery. Such a helper grows here!
Now the main goal for me is not to discourage the daughter's desire to help parents maintain cleanliness in the house, so that cleaning is not a punishment, but a pleasant duty.