At 2 years of age, my daughter began to bite. This period coincided with the start of kindergarten visits. Perhaps biting babies, she tried to defend her own opinion, or simply learned it from other babies.
The teachers constantly complained about her behavior and showed me the traces of her teeth in the hands of other children. And one day the daughter bit the other girl hard on the cheek. As the teachers explained, that girl tried to take the doll away from her daughter. Fortunately, the girl's mother reacted to the situation with understanding.
I was very upset. The fact that my daughter bites, I knew. Several times she tried to bite me or her older sister. But I never thought she would bite other kids. I hoped that this habit would pass without my intervention, so I told my daughter that I shouldn't bite, but I never punished and didn't pay attention to it.
Walking on the playground
After the incident in kindergarten, I realized that I need to urgently do something. A few days later, the May holidays came and the garden did not work for a week. We walked every day on the playground, where the little girl strove to bite every child who tried to get close to her.
Of course, I could not for a minute move away from the child. I decided to use this situation in order to wean the daughter from this terrible habit.
Every time when my daughter made an attempt to bite a child, I gently covered her mouth with my palm and said: You can't bite. It hurts. The girl will cry. At first, my daughter did not pay attention to my words, but then, before biting, looked around, as if wanting to see my reaction to what was happening.
I noticed that my daughter, before biting, hid her toys behind her back. From this I concluded that she simply does not want to share them. Every time, returning home from a walk, I told my daughter how beautiful it was to play with other children, how fun it was to make friends and change toys.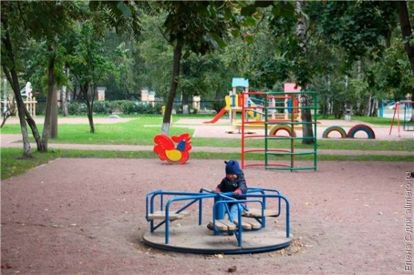 Girl and doll
Once a girl of 5 years old was playing on the court with a very beautiful big doll. Of course, my baby could not pass by and stopped nearby, looking at someone else's toy. The girl started a conversation with her and offered to hold the doll and play with her.
Of course, my daughter immediately grabbed the doll and they began to play with the older girl. Returning home, I asked my daughter if she liked playing with someone else's doll. Having received an affirmative answer, I began to praise a kind girl who did not spare her toy.
It was after this conversation that the daughter's biting attempts stopped. I learned about this from the teachers after a few days of attending kindergarten.
Did your babies have the habit of biting? How did you manage to wean them?