This alphabet won me at first sight! 😉 Yes, yes, it was me, you are not confused))
And he fell (my first glance) on … hedgehog. Now I will show it to you and, I think, many will understand me)) Well, after all, mi-mi-mi, isn't it?)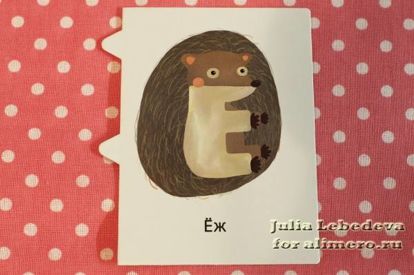 So, my today's review about associative alphabet in the form of puzzles! Its author is a psychologist and teacher with 18 years of experience. Yulia Tarakanova is an expert in the development of figurative memory in children. Exactly. And this alphabet is the most vivid confirmation!
To begin with, I removed the transparent packaging from this nice and compact box in the presence of a friend. When the cover was removed, I wanted to immediately review all the cards. And somehow it happened by itself that Dasha and I … started playing. Well, yes and what?))
She turned the box on the table, the cards turned out to be shirts. So I began to pull one letter at a time, after which Dasha and I called our first associations with this letter …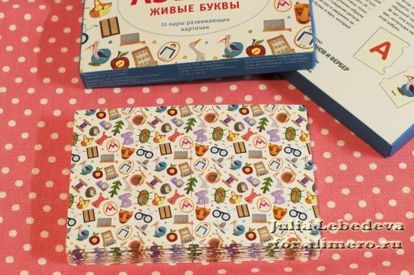 When guessed, when not. But it was very fascinating)) Therefore, I did not doubt for a moment that Senya would also appreciate this activity! And so it happened;)
I will say a few words about the overall design. The set consists of a cardboard box with a size of 17×12 cm, a sheet with annotation and a brief guide, and 33 pairs of cards.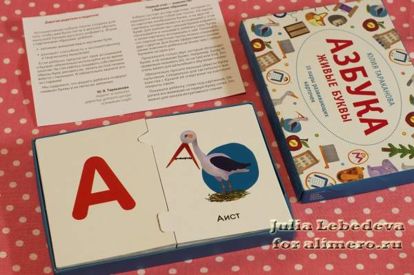 Each card, respectively, 8×11 cm in size. Donkey Ia immediately remembered with his phrase: My most favorite size)) And the truth is that they are very convenient – not big and not small. The child can easily see the letters and drawings, and his finger will not tire of drawing them around))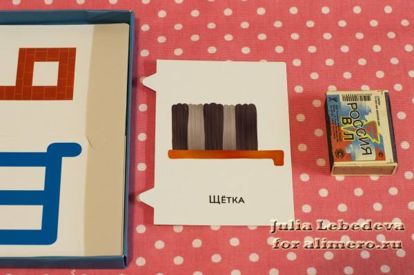 The density of cards is average. Those. if you do not specifically bend them, do not fold, do not nibble, then everything will be fine))
When to learn the alphabet?
On the box it is indicated that this is a desktop-printed game for children over three years old. But I think everything is individual here.
I know mothers who, at the age of 1.5, buy their kids a magnetic alphabet. Someone boasts that a child in 2.5 years knows all the letters, and in 3 already reads … And there are doctors and professors who are convinced that before the age of 5 years a child should not be shipped in letters, and only every fifth child is able to learn their earlier – starting with 4 years.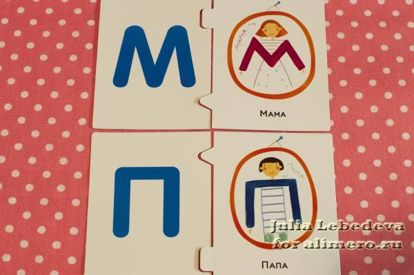 In general, as usual – everyone has their own opinion. So I will speak)) It seems to me that this question requires an individual approach. It is necessary to look at the general development of the child and its interest specifically in letters. After all, there are, for example, innate techies who, in their 2-2.5 years, are very well aware of and know the numbers, and the letters are completely indifferent.
Arseny is 3.5 years old, and I decided that we should try this associative alphabet 🙂 Not everything worked out for us so far, but the child is interested, and this is the main thing!
Well, now let's move on to the features of this alphabet game.
The first thing I liked – for each letter, the picture is not chosen randomly. Those. not according to the principle as it was in my primer: A – Watermelon. Not.
In those objects / animals that are depicted on the second (right) part of the pair of cards, you can see the letter currently being studied. So the kid remembers not only her, but also the association with her (by the way, if the child himself proposes his associations, it means he already reveals his creative abilities!).
For example, the letter AT. Not only that ATThe bike begins with it, so also the letter itself can be found in it, there it is – wheels with a frame! 😉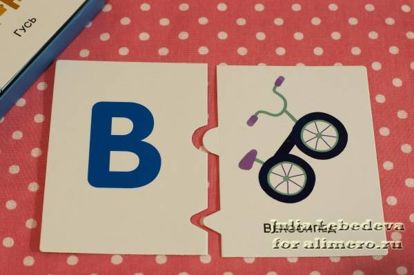 F – Fuk with his torso and six limbs … and so on.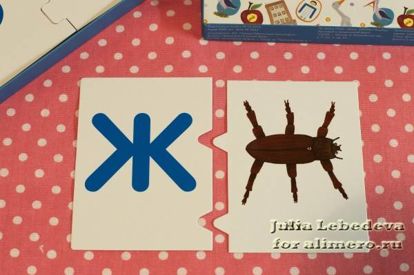 I am a fan of tactile sensations)) Mom here all laughs at me, that I choose bed linen sets, first of all, not in color or size, but … to the touch!)
Therefore, I was very pleased that in this associative alphabet attention was also paid to tactile sensations, too – each letter is covered with varnish (and on the left side of the cards, which stands alone, and on the right side – inside the object or animal).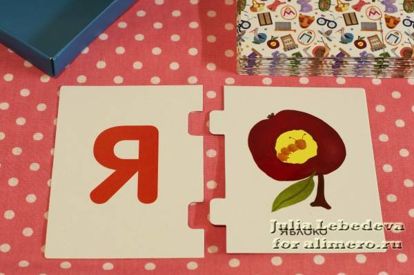 A couple of times showed Seine how to stroke the letters with her finger. When he understood what was the matter, he smiled and wanted to touch all the letters)) True, there was not enough patience for this))
This alphabet is not accidentally called a desktop-printed game, because each pair of cards is a puzzle. So, to the letter H no card will work except with Hiinik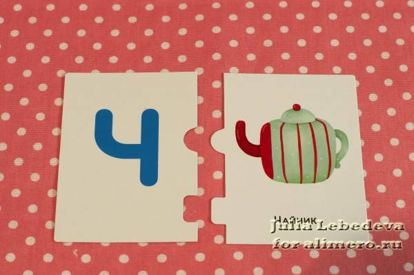 I have not yet met a child who would not like puzzles. This chip creates additional interest on the part of the baby.
Well, what to say – Arseny and I liked the alphabet!) We did not find the minuses. Maybe you didn't watch very carefully?)) I think in this case you will help us by stating your thoughts in the comments)
The author recommended to acquaint the child with no more than 7 cards at a time. I started with 4. I think not in vain, given the age.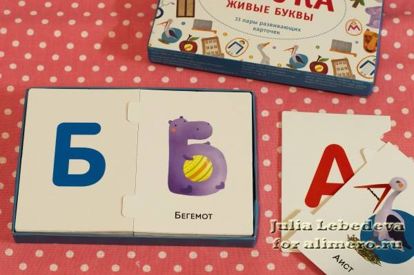 Showed each letter in turn, called it (namely, sound – that is, not pe, but P – it is important for further learning to read), and then showed the picture-association, paying attention not only to the animal / object, but also the outlines of the letter inside it, as well as the word under it (and its first letter, respectively).
Then we spread out the cards and distributed the pictures to the selected letters. Senya checked the correctness of his choice himself – if the puzzle converged, then everything is correct.
But in the reverse order – to pick up a card with a letter to the picture – it turned out to be more difficult. But we are working on it;)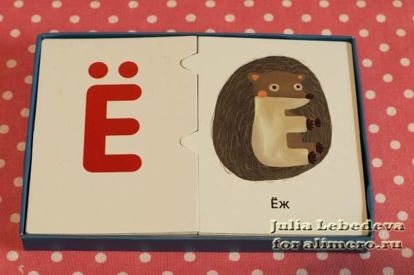 The alphabet turned out to be both fascinating and informative. Now we are looking for such picture-associations not only on the cards, but also at home in the available objects, on the street … It is curious to observe how the cat is lying on its side (i.e. the letters E) coagulates, forming the letter already ABOUT… That's how you can see a lot of things in the most ordinary things! 😉
And in what alphabet did you learn letters with children?