Becoming a mother, involuntarily you begin to think about how to keep up. My salvation in this matter was the community Get on with the children, which I accidentally found in the vastness of LiveJournal. It contains a lot of useful information on how to effectively allocate time to mom in order to successfully self-realize, take care of the family, do what you love, travel, etc.
Today I want to introduce you to the author of the project. Get on with your children – Alena Frost.
Alena, tell us about your project. Make it with children. How did the idea to create it? Objective of the project? How did you start? Who supported you?
The idea of ​​the project was born when the daughter was about 2 months old. Our daughter is very active and doesn't sleep much since birth, so the issue of organizing time became very acute almost immediately after giving birth, and this despite the fact that my husband and I are experts in time management with experience.
Immediately felt the gaps in the preparation, began to look for literature, it turned out that there is practically nothing on this subject. For 2 years, of course, much has changed, books on TM for parents have been published, many projects have appeared on this topic, but then there was an acute shortage of quality information.
So we decided to collect this information and generate it within our own project. The name was invented by my husband, and we started together, and as soon as the project got stronger, I took it into my own hands.
The husband now supports morally. We started with the first article, with the first training, which, by the way, 100 people signed up, which was a shock for us.
In your opinion, is it enough for a woman to take place only as a wife and mother?
I think this is very individual. For some, the vocation is precisely in this, one might say, these are professional wives, mothers, keeper of the hearth. It is in these roles that such women are comfortable and they enjoy and feel that they are self-fulfilling. But such women, according to my observations, are still a minority.
Someone enough to add a hobby, someone in need of professional development. Each mother should understand herself, what is important for her and try to find time for important areas of her life.
Is it possible even before the birth of the child to prepare for everything to have time after birth and how to do it?
Yes, of course, moreover, be sure to prepare in advance. How exactly, in two words it is difficult to say, I have a whole training on this topic.
First of all, you need to tune in to a complete restructuring of the usual way of life. Sometimes it is this restructuring and internal resistance to change that prevents the young mother from quickly getting into a new rhythm.
Therefore, you need to change certain habits in advance, learn to do things in short rushes, breaking them into pieces that can be laid at 10-15 minute intervals, often so much the baby gives mom time. It is also necessary to close the case as much as possible, prepare the house, dismantle the old rubble, distribute responsibilities among family members.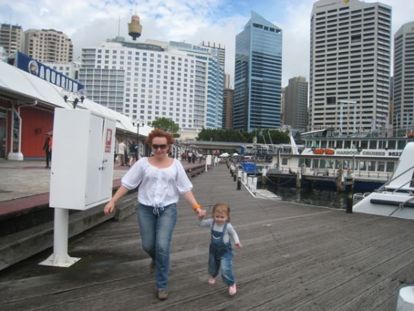 Alena, in your community there are many mothers who work at home and at the same time are engaged in raising children. Do you think the future for freelancing or for a long time will be in the priority work in the office?
I am sure that freelancing has a great future. Many advanced companies are already abandoning expensive office space and working with their employees remotely. In addition, the share of Internet business is growing, which means that the web profession is becoming more and more popular.
In addition, after the decree, many mothers do not at all crave to return to the office, to spend time in traffic jams and to see children only on weekends. So the alternative to office work is very interesting for them.
Fortunately, there are now a large number of distance courses, with which you can master the web professions and start building your own online career.
How did the idea to produce a free e-magazine come up? Have time for children and has it justified itself? Who are the authors?
Project Have fun with children! started with LiveJournal community. Until now – this is the main site of the project. I have always carefully approached the selection of materials, but the specificity of LiveJournal is such that each article lives only a couple of days, and then goes deep into history and no one will see it there, except perhaps the most inquisitive readers.
I began to think about how to perpetuate all the valuable materials of the community and decided that the magazine is the most suitable form for this. I select the authors of the articles myself. Of course, these are moms. Moms who have some positive experience that they are willing to share with others.
Now, when the number of subscribers is in the thousands, I get a lot of suggestions from readers who also want to join the team of authors. I select the most interesting offers. It is important for me that each article not only contains useful tips, but necessarily inspires, pushes for action.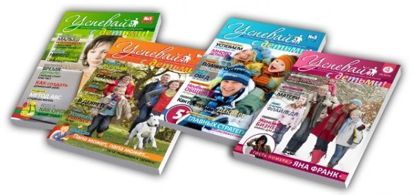 In the community Be successful with your children, you have often shared your experiences with readers. Tell us how you do with children? What system do you follow? How are your priorities distributed? How do you allocate time to work? Etc.
I still have one daughter, now she is 2.5 years old, and when the project began, she was only one year old. I'm not trying to do everything, I try to do the main thing. I am quite flexible in planning, I can easily adapt to new circumstances.
I will not be original, like most working mothers who do not have a nanny or grandmother at their side, I work when my daughter sleeps or when her dad does it. Without fanaticism, I approach many issues, determine what is good enough for me and do not give way to perfectionism.
We travel a lot and this is a very important area for our family, so starting points are family trips.
Alain, what inspires you in everyday life?
Of course, this is my daughter and our family. As for the professional sphere, it is inspired by people who have found their vocation and do their work with love. And, of course, travel!
Project Have fun with children for you – is it a job or a favorite hobby?
I really hope that this will become my permanent job, and not even just a job, but a real business.
The main problem of many moms is to find time for themselves. How did you solve it?
I can not say that I found some magical way. It seems to me that the problem is not so much time as motivation. If you really want something, you will find an opportunity to implement in any case.
How do you like to spend your free time with your family?
As I already wrote, we love to travel very much, and we spend a total of several months a year away from home. And we love to take pictures, so traveling for us is two pleasures in one.
Travel routes are different, but the fixed points on the map are the cities where our parents live with her husband, where other members of our families live. We try to visit everybody regularly, and these are already 4 points on the map of Russia and the near abroad. Plus more long journeys.
Alain, every woman has her weaknesses. Which ones do you have?
Here I flirt and do not confess. Why admit in the weaknesses to someone, except himself?
What advice would you give to women so that they can efficiently allocate their time?
Time is the most valuable thing we have. Time is our life. Appreciate the time, do not wait for the children to grow up, do not wait for the situation to change, change yourself, learn, look for your vocation, look for something that will inspire you and then the issues of time distribution will be solved much easier. And always remember that for you the most important thing and first of all devote your time to this.
Alena, your next plans for the future. What are you planning, what are you dreaming about?
In the near future, the implementation of a new project for moms associated with freelancing, in the work of 2 books on time management in collaboration, recording of several audio training and, of course, new travel routes!
Photos from Alena Moroz's personal album.