Recently, we went with our son and daughter to a children's cafe. Since it was a day off, there were many babies. Everyone was running, screaming, jumping. But most of all I remember the boy, whose behavior was far from ideal. I immediately remembered age crises in my children.
What do we even know about these crises? After all, everyone has crises: someone worries about work (and other working moments), someone has problems on a personal front. Age crises also have their own nuances.
Generation Comparison

I once asked my mom if I had any problems at a certain age. Only the transitional age is considered to be a problem for me, the rest of the time is quite tolerable. It's just that our parents are not so well aware of age crises, as we know (especially thanks to our children).
Our children are very different from us. Our generation was calm and docile. The current kids are restless, hyperactive, with a certain pace of life. Our parents, the older generation, say this: you were not like that !. It seems to me that the modern world is a huge step forward (if we compare it with the recent past). And children, of course, always walk ahead of us.
They master the modern technology faster than us, understand computer programs, easily adapt to new conditions. Of course, the current pace of life requires us to develop faster, to keep up with life. Acceleration also contributes to the load on the young body.
The first crisis – the moment of birth

For example, a huge amount of sounds, smells, information immediately falls on a newborn. And also – people, events, images. Mom in the tummy calm, quiet, comfortable. Of course, the child hears and feels everything. Scientists have shown that in addition to sounds (when mom and dad are talking to the tummy, music, etc.), the baby can smell and smell in the womb. But not as sensitive as a newborn.
It is difficult for a newborn to have to adapt quickly to a whole new, different, more rhythmic life. From here, as psychologists say, a nervous overstrain, stress from a set of the done work.
But this is also the most significant period in the life of the crumbs. Because the baby needs attention, maximum warmth, care and love. In order for the adaptation to take place on time and without problems, it is enough just to listen to your maternal instinct: feed in time, pick up, change the diaper.
12-18 months

During this period, kids know the world with might and main: they start walking and talking. My children started walking even before the year (10-11 months), but this is individual. I know from my own experience that it is also the formation of my own Self. During this period, children demand their own: fulfillment of their desires (go, take, do what they want).
The children are still attached to their mother. And if breastfeeding is still fed, then all the more. And, as it seems to me, they want to eat my mother's milk, not because they are hungry, but to make sure that mom is near.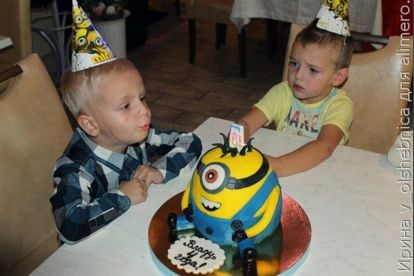 Crisis of 3-4 years

Children's psychologists call this period the most difficult. But at the same time, they consider it normal and quite natural. The kid simply forms his personality. But sometimes the children are simply unbearable: the mood changes, as the weather at sea, the behavior is terrible. And what is most offensive is that the child, in fact, is not guilty of anything, he is simply forming a character.
For us, this period was the most difficult, perhaps. My daughter has changed a lot then. From a calm and docile child, she turned into harm. It was difficult for her to please something, to give up. She demanded not just attention, but fulfillment of whims that changed every minute. The child himself did not understand what he wanted.
I tried to direct her energy and obstinacy just in the right direction. We often began to draw, engage. These exciting activities have helped us cope with anxieties, experiences, and mood swings. Drawing, the daughter calmed down noticeably. Yes, and these classes give the benefit that the child develops, forgetting about the problems.
What age crises did you encounter? And how did you fight it? What helped cope?