Like most babies, my half-and-a-half-year-old son loves animals very much, especially for snails. Despite his passion, I do not allow him to collect them on the street. If during a walk they met on our way, and I did not allow to take it in hands, then the hysterics began.
Unusual pet
One wonderful day, I learned that a giant snail babies had appeared in a neighbor. It was decided to take a couple to please my son. They love to dig into the ground, so my surprise knew no bounds when, instead of two snails, five came to the surface!
It turned out that their neighbor accidentally poured them together with the soil in a box in which Achatina brought us. They live in the most usual aquarium-terrarium, which the master made to us to order, on top of it is equipped with a glass lid with holes, so that the Achatines will not leave their home and oxygen will penetrate to them.
In the pet store, I purchased a coconut substrate, and put it on the bottom of the terrarium, the snails with pleasure burrow into it and rest there. Our pets are only 3 months old, but in size they are already the same as snails, they do not grow by leaps and bounds.
They still seem small to me, but very soon, when they grow up a little more, we will put a small bath for Achatina in the aquarium, as they like to swim very much. The depth will be small, so you can not be afraid that the snails will drown.
Despite the fact that the African snail can crawl under water, it turns out that if it falls from above into such a bath, it can drown from fright. For heating the terrarium, we use an ordinary incandescent bulb.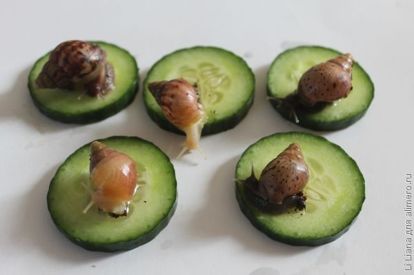 As I already said, snails sleep during the day and crawl at night, so we feed them in the evenings. This is a whole ritual, my son takes me to the aquarium and shows me to open the lid.
He takes out the remnants of the food that we gave the day before and puts new, fresh pieces. Snails love vegetables and fruits, in no case can not be given fried, smoked and salted, it can destroy them. And if you give the same food for several days in a row, they will get used to it and will refuse from other food.
Even Achatina need calcium, for this we stocked up with sepia, it can be replaced with fodder chalk or chopped egg shells, it is necessary for healthy growth and shell structure.
After feeding, we irrigate the terrarium with a sprayer, and thus, we feed the snails. They are happy to lick droplets of water that have formed on the surfaces as a result of spraying.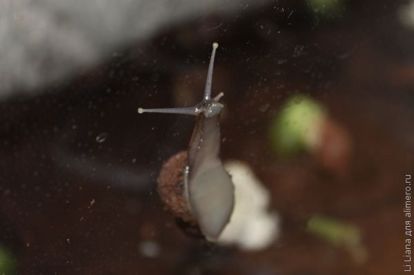 Snails do not seem to me ugly or ugly, on the contrary, amusing. I also believe that they can be called ideal pets that are unpretentious in food, have no smell, do not wake up with their bark, do not make shit in sneakers, and they do not cause allergies.
And the most important thing is that even the baby can take care of them, by the way, since Achatines appeared in our house, interest in street snails has disappeared.