A few months ago, my daughter started attending kindergarten. I delayed this moment as best I could. Too much I did not want to let my native blood out from under the maternal wing. Yielding to the persuasion of her husband and the rest of her relatives, almost at the age of five we began to attend a regular state kindergarten.
Adaptation and first impressions
I was ready to adapt my daughter to be painful, because she was completely unused to the team. Yes, and to teachers, I, frankly, was hostile. After the first day of my daughter in the garden, I was ready for the fact that she would refuse to go there at all.
What was my surprise when I came before dinner for my baby. She ran out to me in the dressing room and asked to pick her up later, because she wants to sleep with the children. From the first days the child goes to the garden with great pleasure, and this, I think, is the merit of the educators.
Most of all, I was surprised that at what time I would not come for my daughter, the children were never left to themselves. After talking with familiar moms, I came to the conclusion that this is a great rarity.
A few months after the first visit to the kindergarten, I realized how wrong I was, not wanting to attach my daughter to the team. No matter how hard I try to study with the baby at home, she absorbs information much faster in the company of other children. To be honest, my pedagogical abilities leave much to be desired, so it is not surprising that they will teach her more in the garden.
In a short time, her daughter had many friends with whom she was not just playing, but also living certain conflicts, disputes and difficulties. And such situations give a good start to developing their position in life, they learn to stand up for themselves.
Besides, attending kindergarten, the daughter became more plodding. Previously, she did not do the same thing for more than ten minutes. Now she can spend hours painting or coloring her favorite pictures without the participation of adults.
Well, another plus of the kindergarten is that children there become more independent. If earlier I had to help my daughter to dress, to take the dishes after a meal, now she can cope with it herself.
Despite this number of advantages, the disadvantages of pre-school children's institutions still exist. For example, the influence of other children. This may include the repetition of bad words, and audacity in communicating with adults, and other unpleasant moments.
Children are all different and are brought up according to different canons. But I still would not want her group friend to teach my daughter to pour the same toy vodka to dolls from a toy kettle 🙂 Unfortunately, she herself witnessed such a picture.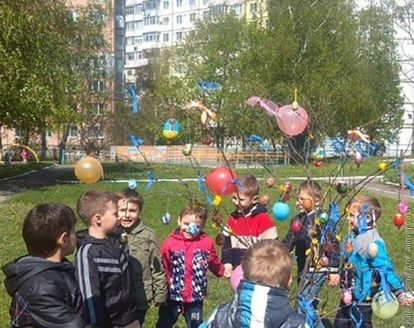 I am also very upset by the nutrition of children in the garden. Perhaps this is the only situation in our city, but children come from the garden hungry. I do not know about you, but I do not consider pasta with squash caviar and tea as a useful breakfast. And the fruit in the form of two slices of orange a day is somehow not encouraging. A separate story – drinks. The fact that there is such a drink as a compote of juice, I learned for the first time thanks to kindergarten. But let's not talk about sad things.
The conclusion from my story is this: as far as I would not oppose the stay of my daughter in kindergarten, I came to the conclusion that she needed to communicate with her peers. Thanks to the garden, the daughter not only learns to draw, count and write, but also to communicate with people, get out of conflict situations and be an independent person.
Do you think the kindergarten has more advantages or disadvantages?