Sooner or later, almost all of our kids get into the garden. Someone goes to the state, and someone – to the private. Most often the age of children who first went to kindergarten varies from 2 to 3 years. Surely, every mother worries about how her home child adapts in an unfamiliar environment. Let's try to understand this issue.
A young child does not yet have an extensive experience of meeting new people. We will be glad to see new acquaintances and impressions, and a kid who communicates mainly only with close relatives and is at home should get used to new conditions and new people.
Separation from parents and home can be very acutely experienced by the baby. Your child may even flatly refuse to communicate with caregivers and other children. A new environment may scare him: a large room-group, other children, caregivers. Unusual and mode: you need to get up early, the food is different from home, you must follow the rules of behavior.
Every child adapts to kindergarten in his own way. But still most often the baby becomes whiny, timid, stubborn or capricious. Often, the child may already be at home to refuse to go to the kindergarten or not to let his mother near the group. This behavior can last up to 2-3 weeks, then gradually everything goes back to normal.
Unfortunately, children, getting into the kindergarten, begin to get sick more often. I once witnessed the scene: one of the moms screamed in the corridor of the garden that, they say, my child was never sick at home, and here we were not getting out of snot! And how to prove to such a parent that a child is ill not because of the fact that animal educators arrange drafts or force children to run through puddles?
In a group of 25 people, a child may well be a potential source of a virus. I myself once took my daughter to the kindergarten in the morning, and in the evening it turned out that she had conjunctivitis. Just at home this disease has not yet manifested. In addition, during the adaptation period, the baby's immunity weakens and you need to be more careful than usual.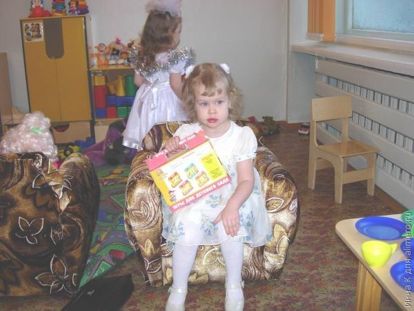 With the eldest daughter, we since 2 years went to kindergarten in a group of short-term stay. At first we were together, then from the age of 3, I left her every day for 3 hours one. Therefore, our adaptation period is somewhat smoothed out. She did not sob when I left, I knew that after 3 hours I would take her.
For the whole day we started walking when she was 3 years and 7 months old. She was already a conscious girl, and she could explain that I needed to work, and she would have to be in the kindergarten at that time. Of course, it was such that she cried, but it was rare.
My younger daughter, without hesitation, I recorded in a similar group. Now she is 2 years old and we go to kindergarten once a week for developmental activities, at the same time we get used to the situation, to other children and to teachers. I hope that in the future it will help her to adapt faster!
How to help your child adapt?
In order for your child to get used to the kindergarten more quickly, it is necessary to prepare for this event in advance.
Bring your mode to kindergarten mode. That is, you need to get up early, be sure to go to bed during the day and eat at certain hours.
Find out what kind of menu in kindergarten (for sure, sociable moms won't be able to do it) and include unfamiliar dishes in your diet.
Tell your kid about kindergarten, how fun it is, how he will play there with other children and go for a walk. Do not frighten him at all!
Try to get rid of bad habits in advance. This includes nipples, thumb sucking and bottle sucking.
And most importantly, be patient. Try to keep the child in kindergarten was not hard labor, but a joyful pastime!