Probably, there are no such children who would support the idea of ​​parents to enjoy passive recreation, and would lie in the shade, while mom and dad lazily turned from side to side, sunbathing in the sun. Our children are active and require no less entertainment on the beach than in everyday life. Therefore, I have a whole arsenal of means by which I try to occupy my daughter so that she is not bored.
In the resort shops you can find a lot of various inflatable products. It performs two functions: it helps the child to stay on the surface of the water and you can play with inflatable toys. For example, we have such a fur seal on which you can ride on the sea.
We also purchased an inflatable ball (it is convenient to carry around with you in a deflated state), sleeves, and a vest. The vest is still great for my daughter, but we have already begun to use sleeves. We have a circle, but I don't really like it, because I think that there is no such freedom of action in it as in the sleeves, and it does not cost anything to roll over.
City beaches today offer children to take advantage of a thousand entertainment. Just yesterday, we placed an inflatable piece next to us, in which you can jump. A little further away there is a trampoline, a town and an inflatable slide. And still the daughter cannot pass by musical machines and horses.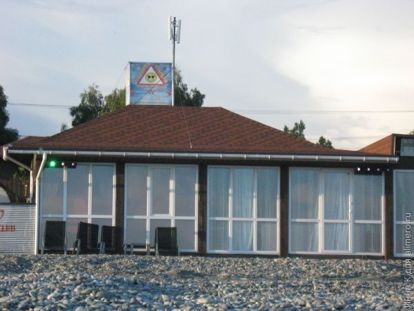 On our beach there is one institution that organizes parties for children twice a week. These are children's discos, where animators show kids various movements to music or just fun contests with prizes.
And at the end of the lesson children are invited to participate in a master class. For example, last year my eldest daughter learned how to make a rope doll and sculpt unusual figurines from plasticine. And at that time I was enjoying a book and a cup of coffee at a table.
Toys


On the beach, we usually take simple plastic toys. It is a bucket, shovel, watering can, molds. I also throw in a bag a couple of machines (even though we have a girl, but there is interest in the cars), just such a Chinese-made doll and rubber animals. We have a rocky shore, but a little further away there is a huge sandbox with sand. Yes, and interesting to put the pebbles in a bucket, and then throw them into the sea.
Other interesting stuff
Crayons. This year we realized that you can draw on large stones.
Mask for diving. This is certainly not for little children, my eldest daughter began to use a mask in 4 years. So she stopped being afraid that salt water would get into her nose and eyes and learn how to dive.
Fishing. I do not know how to properly call this set for the game. It includes fish with metal muzzles and a fishing rod with a magnet. Pour water into the bucket and run the fish into it, and with a fishing rod you need to catch them.
findings


The most important thing in the rest is of course swimming in the sea, but other means can be used to diversify the pleasant pastime on the beach. Then the summer holiday will be remembered by your children as a fun and colorful adventure!
What do you do with your kids on the beach?