Unfortunately, in most cities now there is such a situation that it is not necessary to choose a kindergarten, they give the children to where there is a place. But if a miracle happened, and suddenly I was offered a choice of several gardens, how would I choose? What are you looking at?
Location


This is the most important thing in our climate, because we live in the North, where in winter the temperature drops even below minus fifty. Therefore, the garden should be as close as possible to the house. We got a garden in the yard in general, and I am still happy about this.
First, we go to the manager to carry the documents and fill out the contract. Do we like her, what is her first impression? We really liked ours, young, energetic, takes the position for the first year, and positive changes are already visible.
Our head is always available, always at the workplace, or in the garden itself. To her, you can just go into the office and just talk, she will listen, not fencing off with papers and telephone conversations.
Educators. Here, too, the first impression is important, and at least a small conversation before you come with the child. I came and immediately asked – what should I buy? First of all, the tutor dictated to me a list of textbooks and workbooks. This is a huge plus. With children will be engaged.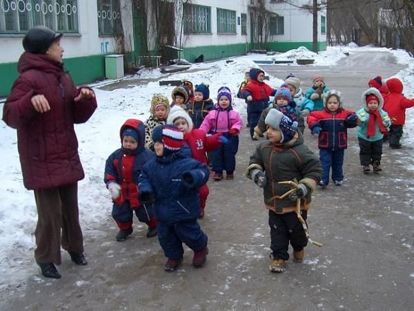 Then she asked – are we going for the first time, what is my girl – sociable or not? It is also good that I asked, it means that I care. At the end of the conversation, I felt great sympathy for the teacher.
Playground, that's the trouble, benches and sandboxes – that's all wealth. There are no slides, no swings, not even arbors. Bad, but we will hope for a new manager.
Halls – music, sports. Unfortunately, it was not possible to consider, but I know that the entire third floor is just given for these rooms. There is no pool, this is a minus, my daughter went to a short-term group in another garden, and she really enjoyed working in the pool there.
The group itself. I examined her carefully. There are 35 lockers in the locker room, and according to the list there are 33 people in the group, there will be no problems with places. Hanging day routine and other useful information on the stands. Place for the exhibition of handicrafts and drawings.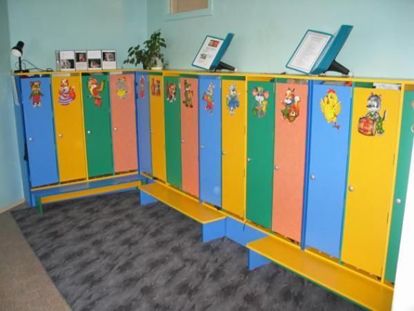 The bedroom is not separated from the playroom – a minus. Three-tier pull-out beds are comfortable, but somehow unhygienic, I think. Toilet with lots of pots, two sinks, clean – good. Tables with chairs for classes and meals.
There are toys, but they asked for one thing to bring from each child. Well, for my child, it is not a pity, toys do not happen much.