We have snow in our knees in Kiev, although April is already on the calendar. Like everyone, my daughter and I are looking forward to spring and rejoice in every manifestation of it. Spring is a time when nature wakes up after a winter holiday, its next life cycle begins, watching which somehow you feel yourself as a part of it in a special way.
I remember from my childhood that in spring birds return from warm countries. However, the day before yesterday we saw two bullfinches in the yard. Do not believe it, but I saw them for the first time in my life, before that – only in pictures.
But every morning on the way to kindergarten we are happy to listen to the birds singing, which was not in the winter. Sometimes we notice new unknown species of birds – whether rooks, or magpies, I do not really understand them.
While there is still snow, you can have a fascinating time, studying the traces on it – birds, dogs, cats. Together, imagine what the animal that left them looks like.
Cats and cats have been active for a long time, clearly on the calendar. It is impossible not to notice their abundance and activity in the courtyards. Sometimes the daughter shows me which cat is pregnant, which is not. I always have a bag of cat food in my bag in case I meet a stray cat. Alas, at home to get a pet opportunity yet, but to care for the street – I'm all for it.
Yesterday we were at the cat show, we watched how touching a couple is kissing – lick each other, rub their noses, very cute.
Last year I finally realized that spring came only when we visited the tulip exhibition. Now we look forward to this event again. After all, as often happens – and you do not have time to blink an eye, but everything has already faded – tulips, daffodils, cherry and apricot trees.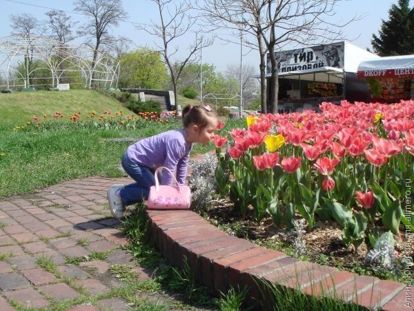 This year we decided to expand the knowledge of our children in the field of botany and attached it to planting seedlings of vegetables and flowers for our grandmother's dacha. They diligently bought seeds, soil, planted together and now she watches and shares her impressions every day – what has grown, what has grown and how has changed.
Despite the snow, the first grass is already visible here and there, and snowdrops are sold in underground passages. Recently, we broke a few willow branches, put them in a vase with water, and now we observe the appearance of green leaves on them.
In every season you can find positive moments. Yes, many will say that spring is solid puddles, slush and rain. However, if you cannot change the situation (and, alas, we are not strong enough to eliminate spring), then change your attitude towards it.
Enjoy every moment – the first greenery, flowers, lack of heat. Satisfy the interests of the child with tales of the changes that are occurring. Excellent will help in this children's encyclopedias about plants and animals, visiting exhibitions and museums, walking in the fresh air.
Has spring already come to you?