When I was preparing for the birth of the second child, then somewhere in the dark nooks of the mind a little worm of doubt gnawed at me … but can I cope, and suddenly the nanny will be needed, but how can I keep everything going?
By the way, I note that we then lived in a house without water and with stove heating. You understand that much more than just feed, change, bathe and oh, I didn't get enough sleep again … In general, my son, kicking his heels, somehow pushed these thoughts aside and I safely went to the hospital.


After birth…


A son was born and here we are going home with this little lump. He was quietly shocked … He looked at me in amazement all the way and was periodically a little indignant.
When they arrived, in shock was a daughter … Her surprise, it seemed, would have no limits. Mommy, and who is it? Mom, why is he so small? Mom, what else can he write? … etc. etc.
The surprise turned into a state of shock when the daughter realized that she also had to share her milk with her mother … She was offended! But, truth, then departed.
Little by little, we returned to everyday life with the children. Of course, like all mummies, diapers, diapers and feeding … everything is in a circle … and at night I dream that you want to sleep. We must pay tribute to his son, the first six months he honestly slept for 6-7 hours at night. And at least somehow, but I got enough sleep.
Imperceptibly, but effectively
At some point, the following thought came to me: Why isn't everything as complicated as it seemed? Vain, yes, but not hard !. And here I finally noticed that I have a caring nanny. My daughter became so interested in this little Laly that she sat with him almost around the clock.
At first they just looked at each other, then she put the nipple in his mouth. He spits out, but she puts in and so on in a circle, until her son gets bored and he spits the pacifier far away, where the daughter will not get it. And she sits and cares about him, they say, why did you spit her so far. It is interesting to the son – after all, they communicate with him … Somehow they were friends for almost the whole day.
Then came the rattles. And my son was busy too. Because my daughter waved one or the other, then the third. Son began to reach for a toy, and daughter – to put it in his hand. He roll over on his tummy, and she his back.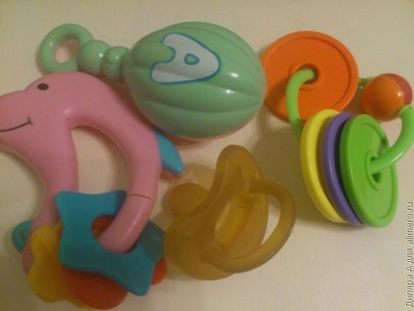 I'm fed now
At some point, the son, like many boys, lazy, threw his chest. My daughter was so glad that she gladly held a bottle for him. It seems like a competitor jumped off.
In half a year began the lures. And then the daughter did not lag behind. We had no problem, I will not. It was so interesting to the son that his sister feeds him, and he also tells something all the time that he opened his mouth and ate everything. She, of course, didn't forget to call in with her spoon, but the most important thing was that both were busy and well fed.
A little later, she taught him to blow on a spoon, if the food is hot. Drink gently from the cup. Wipe the table behind you.
But now he is learning to eat everything and quickly – if he is distracted and left the table, the daughter quickly grabs the contents of his plate. You know the competition 🙂 But both are full and without whims at the table.
And even the leisure of both of them is sometimes organized by her. Now they go to work for a pen, then they run after each other, then she explains to him according to a book with children's tasks. In general, children are busy and the destructive effect of their livelihoods is minimized.
Think about whether you need a nanny or you can use home resources …