Today, dear readers, I want to tell you my story related to the birth of my daughter.
I will say right away that my husband and I experienced many unpleasant moments that we encountered when we learned about the problem of the development of our daughter. How happy we were when our daughter took the first steps, but more on that later.
Pregnancy and preservation
My pregnancy was uneventful. The tests were good, there was no toxemia and other unpleasant moments that would indicate any problems with the child. True, in the second month of pregnancy I was threatened with interruption. Everything worked out and we were preparing for the appearance of our daughter.
One morning, for a period of 34-35 weeks, I discovered that I was running water. With the doctor who was supposed to take delivery, everything was agreed. I was going to give birth to her, but fate decreed otherwise … She said: Call an ambulance, I will not be able to accept you in our hospital because the term is still small.
With such an early period, I got into the hospital, which deals with preterm labor. They looked at me and said that my amniotic fluid was leaking and put on conservation. Only now, having visited a bunch of doctors, I realized that I had to give birth immediately, since the child was already suffering from a lack of oxygen.
I will never forget when my daughter and I came to the next neurologist's appointment and she found out that I had a dry period of 275 (!) Hours. She was shocked and said: If you had not given birth soon, the child would have a moderate or severe cerebral palsy. Here we have this medicine.
After two weeks of saving, I started having contractions around 12 o'clock at night. At 6.45 in the morning I gave birth to my daughter. Weight was 2590, height 47 cm, according to the Apgar scale 8/8.
Despite the fact that the child was born prematurely and diagnosed with intrauterine hypoxia and birth, we were placed in a regular ward.
Hard period in the hospital
Prematurity of the daughter made itself felt. She could not eat herself, her body was with a minimal amount of fat, the sucking reflex was very weak. I had to decant every two hours and feed the baby with a pipette, but that was not enough.
Masha was placed under a drip with glucose, as she had to gain weight. It was the most difficult period.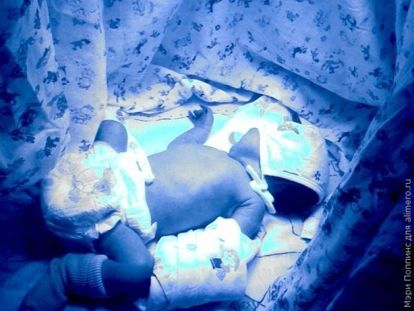 In addition, she had severe jaundice and she lay under a quartz lamp for several days. My mother and I were on duty in turns so that our movements would not damage the arm with a catheter, which was fastened to the diaper.
A week later, we were finally discharged home.
The long period of tormenting the pumping ended, the daughter was finally able to suck normally and began to gain weight. She was just a huge pampers of zero size and the smallest clothes. But we managed! Masha began to look much better.
At about 3-4 months old I began to notice that my child is not very active and does not hold the head well, does not try to roll over. This was especially noticeable when a couple with a baby of the same age came to visit us. The child was more active than Masha. My husband reassured me, saying that I was making everything up and that everything was fine. But my maternal flair did not let me down.
At the reception at the neurologist at 6 months, we were diagnosed: hypoxic-ischemic damage to the central nervous system, delayed stat-kinetic development, muscle hypotonia.
In addition, the child constantly cried and we did not know the reason. At 9 months, we did our daughter's MRI of the brain under general anesthesia. Research results have confirmed that the brain has suffered. But there was no threat to life. You just had to follow this in dynamics.
My morale was not the best … I always asked myself: What am I to this? Why me? But you just had to accept the situation, because it happens worse.
Who we just were not. The masses of various neurologists, geneticists, an osteopath, were treated in a rehabilitation center. We tried to help our daughter with something to improve her condition and development. Of course, in comparison with other sick children, the daughter looked quite healthy. All my friends wondered why I was so worried.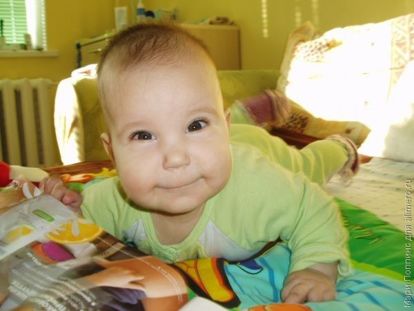 The chief neurologist of Ukaina told us: Mom, look at the other kids in the center and calm down. You will develop, but with a delay. I did not agree with him and thought that I still had to deal with the child.
A masseuse came to our house and I myself worked with my daughter every day. Did massage and gymnastics on the ball. Externally, the child was no different. But my husband and I saw the development of the daughter ourselves and understood that everything is going to be around 6-8 months late.
Masha began to use well only after a year. Sat at 9-10 months, the first steps were 1.5 years.
Now the daughter goes to kindergarten in an inclusive group. There are ordinary kids and a few with features. The group has a defectologist, a psychologist, a speech therapist, a rehabilitologist and two educators. They alternate in shifts and there are 3-4 adults with the children.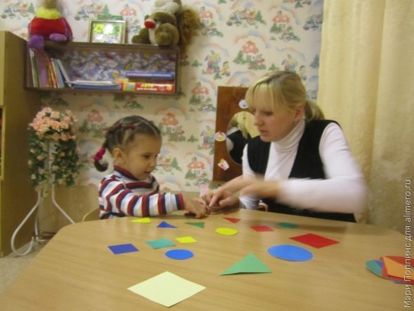 My daughter likes it very much in kindergarten, they do it there and it only benefits her if it were not for frequent illnesses. I am very pleased to hear from educators and specialists: You are well done! It is evident that you are doing with your daughter. It is important to understand that the child has a problem. She became more sociable and talkative.
Of course you should not relax, because there is still a lot of work. Masha does not know how to dress herself, does not eat with a spoon, does not speak in sentences. Every new skill for us is a victory. I remember how happy I was when I finally weaned my daughter from the bottle with the nipple. We did not recognize the pacifier itself from birth, and thank God.
I am very glad that everything is not so bad. The hardest period is over and I want my daughter to grow up healthy and happy.
I wish everyone that your children are healthy and that you, parents, never experience such sad moments with your most beloved little man in the world!