My daughter is very small. She is only one and a half years old, but she already shows character. Everyone scares me with a crisis of 2 years and other upcoming difficulties.
Thanks to the knowledge of psychology, I have several tricks in my arsenal that help me get along with my daughter now and, I am sure, will become a lifesaver in the future.
1. Pain or fear? The main thing – do not lose heart!
Children often fall down and then cry. I noticed that often tears are not associated with pain, but with fear. At such a moment will help an interesting story that will distract the baby.
For example, I once said that even her dad, when he was small, fell off the bench in the same way. My daughter listened to the story with interest. I'm not sure that everything was clear to her, but she quickly forgot about her trouble.
2. Take me home.
In the case when you need to go home from a walk, and the child is set to take a walk yet, you should not try to lure him with some tasty promises or buying new toys and, of course, in no case should you put ultimatums.
You just need to ask the child to take you home. Seriously. Children often like to take care, as adults do.
3. Do not order, but ask for help.
The neighbor daughter often refused to walk with her mother by the hand. She did not show perseverance, but requested help. Now the daughter always before going out stretches her palm to her.
She knows that her mother has a very slippery sole on her shoes. Little helper leads her hand always and everywhere.
4. The opinion of the child is very important!
You must always give your child the opportunity to feel that his opinion is important. You need to ask the child about his desires. And it does not matter that he is still quite small.
My husband and I will definitely be interested in the opinion of the daughter as soon as she learns to speak.
5. We speak calmly in any situation.
There are moments when a daughter is naughty, loudly shouts, uses a demanding tone. I always remain calm, at least outwardly. If you do not raise your voice, do not get annoyed, then after a while my daughter takes my calm voice and behaves much quieter.
6. Praise and encourage.
I praise my little helper for every little achievement. In my opinion, children should receive rewards. The smallest business or help is accompanied by an unexpected reward. A small surprise or a sweet word, and the mood of the child changes in seconds.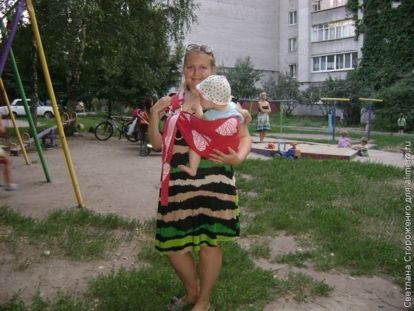 7. Genuinely love and talk about it.
This is most likely not even a trick, but the formation of the right attitude. Children do not know how we love them. We need to tell them more often. Several times a day I tell my princess that I love her. I constantly hug her, stroking her head and back. I kiss my blood shower for the night and wish you pleasant dreams.
How do you communicate with your children? What are your tricks?