I recently visited children. Invited my classmate to a meeting. We drank tea with a cake, talked merrily about everything. Then they switched to the topic of children. When it comes to education and upbringing, many mothers want to share their experiences.
Education, as a rule, includes the ability to write, read, perform arithmetic operations. But after all, general education does not include the full potential of literature, film, theater. For many children, huge strata of Russian and foreign culture remain inaccessible.
I am a teacher by education. From school, I was drawn to the humanities, was interested in history. It was this science that seemed to me so out of reach, at the same time secret and mysterious, which I wanted to know all my life.
I dreamed of being an archeologist, a researcher, and writing my scientific work. At first it was. Day had to sit in the library, the Internet in search of information. We traveled with the dean to conferences in our area, we had an interesting practice, I wrote articles, works.
I really liked ethnography and cultural studies at the university. After all, the history of different nations is very interesting! Each has its own past, its own culture. It is a pity that schoolchildren are not told this and there are no such interesting subjects in my school curriculum.
When I had practice at school, I tried my best to interest children in history and cultural studies. They even wrote essays on these topics. After all, art enriches the spiritual world, expands the horizons of children's imagination and thinking.
But what could I do? Ask the head teachers for additional lessons? On your own enthusiasm to conduct a lesson when the students so want to go outside, warm themselves in the warm rays of the sun? I decided to introduce my children to the world of art. And now I will tell you how.
It all starts small, I think. And to the big goal, people walk in small steps. Do you know what my goal is? Healthy, educated, educated children. Of course, they will receive general skills in kindergarten, education – at school. But I think that as a mother, I have a duty to teach them a lot. In the future, I want to be proud of them, not blush at the parents' meeting and am ashamed of their failures.
Education is an important factor. And I really want my daughter and son to be talented and developed. I want to drive them everywhere and talk on different topics. Here we start small. We go to the puppet theater.
In our city there are various events, exhibitions. I learn this from local newspapers, the Internet. For example, when I worked as an Internet journalist, I knew more about various events. The entrance for us was free. We went with the children to the opening of the library, World Library Day, where I was doing a report, and the children were playing.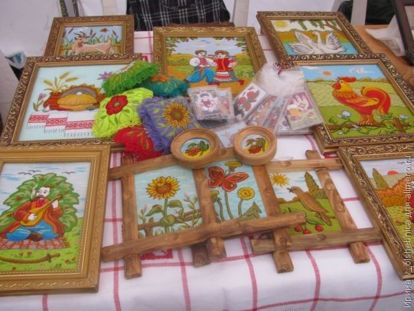 There were also a lot of exhibitions in the museum, book presentations, Battle of Poets, where I, by the way, also took part. Little by little my daughter began to delve into my work and went to exhibitions with pleasure. She was interested in paintings, artists.
There are no musicians in our family. And for my daughter, I did not notice the desire for music. The maximum that she does is to find music on Vkontakte and switch to the song that she likes the most. I can give it to a music school only if it itself has such an interest.
4. Creative activities.
Now on the shelves of shops and supermarkets you can find a lot of tools for creativity. Everyone understands how good and necessary it is. I buy in bulk stationery. I believe that the more tools (brushes, pencils, paints, clay) children have, the more diverse their work will be.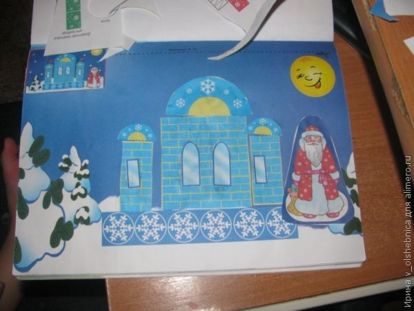 The daughter herself makes the applications, draws, writes. A son (2 years) draws something incomprehensible and mixes paint. I try to teach him to draw something distinct (sun, rain, flowers, streamlet).
For me, books are a special world. You know, I didn't like to read in school what I was forced to do. I enjoyed reading exactly what I was interested in. So, the story has always been excellent, but in other subjects is not very.
Of course, I read everything, handed over, but without much enthusiasm. I love those moments when you can fall on the couch with a book in hand. Then I immerse myself in someone else's life, distracting from my life, worrying about the heroes and dreaming.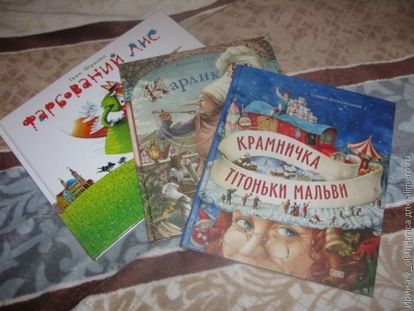 Books always make you think, this is a great impetus for reflection, action. Watching what to read, of course. But even women's novels (which I consider to be options for the soul) teach life and make you think.
Children see me with a book and this is the norm for them. By my own example, I show that reading is good, exciting and useful. We leaf through books, we read fairy tales, verses. I order books through the online store, and we rejoice when they come!
And this is how we live in small steps, walking into the world of art. But he is full of so many colors, so many interesting things! And what are you doing, how do you teach your children to creativity and art?