My daughter and I often shop at the stationery store. What is there just not! Pencils, felt-tip pens, glitters, paints – all this attracts the attention of my little princess.
My daughter loves to draw, so we can not ignore the stationery stores. We only buy albums and paint. But the brushes are completely unclaimed. Are you surprised? And we do not paint with brushes!
My daughter is growing up a creative child. She likes drawing with unconventional methods.
My dear artist uses everything that comes handy – toothbrushes, semolina, threads, water balloons, tubules, foam sponges and her own fingers.
1. Drawing with threads.
This kind of drawing came to us quite unexpectedly. Somehow my daughter painted with gouache. In one of the jars with diluted gouache thread fell. Ksenka pulled her out and put it on the drawing – it turned out to be a funny snake! Since then, the thread – an indispensable thing in drawing!
A daughter not only puts them, but also leads them on the sheet. So we get different patterns! And if some threads are dipped in blue paint, and then spread out on paper – it turns out a thin and beautiful rain!
Toothbrush is very easy to use in drawing. Now we don't throw out the old brushes, but give them to our artist.
First, we lay out patterns or a herbarium on a large piece of paper or drawing paper with a daughter, and then use paint with brushes. It is most convenient to splash, sweeping the brush with fine teeth.
When the paint dries, we remove the patterns. We look at the picture, and there – all around in bright colorful droplets. Sometimes the daughter outlines the contours, and sometimes fills some figures with one color.
Finger painting is fun fun! Each finger has its own color of paint. At the end of drawing hands are like a rainbow. Fingers can draw lines, make prints. Ladosha can draw the sun with rays. This is very like my daughter!
4. Manka.

Drawing decoy causes delight in children and adults. Once we were at a children's party. There was a girl who painted with sand. The pictures were just awesome!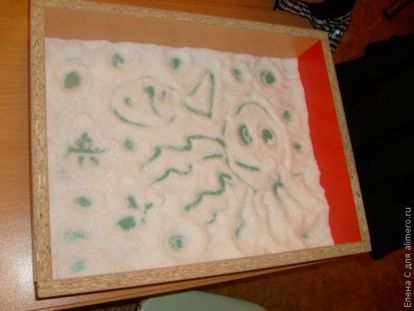 My daughter became interested in this way. That same evening, she began to ask my husband and I to arrange such a table for her. And we did it! From improvised means – the glass form for baking and the usual semolina. A daughter all evening showed us their masterpieces!
And what items do you use for drawing with the child? What do your little ones like best?