My children have many discoveries to make. They are just starting to live and everything is interesting for them. It is good when a person keeps this childish habit of looking around with eyes wide open and does not cease to be surprised even at a conscious age. It seems to me that it strongly depends on the degree of development of his 5 basic feelings.
Mind on your fingertips
Today I would like to talk about one type of feeling – touch and how to develop it with the help of games. It only seems that the information we perceive mainly eyes and ears. With the help of tactile sensations, the child receives a huge amount of knowledge about the world. Therefore, it is so important to develop precisely touch.
But that is not all. Everyone knows that fine motor skills need to be engaged in: sculpt, do painstaking work, etc., so that the child is developed. But recently I read that tactile sensations are also directly related to the development of the brain. The greater the sensitivity of the baby's fingertips, the smarter he is.
Of course, I am exaggerating a bit, but still we have adopted many tactile games in our lessons with our youngest daughter. And with pleasure we will share them with you.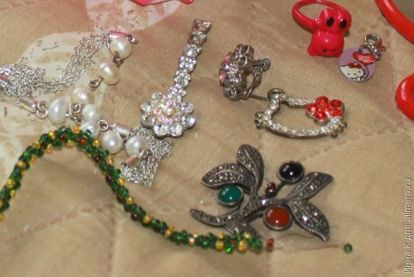 I do not know how boys are, and girls from childhood love all sorts of mother's jewelry and in general everything that glitters. Naturally, my real jewelry, I do not give the daughter to be torn apart. But in a separate box she put various interesting things that are not valuable. There are bracelets made from knitwear, beads, small earrings, etc. The texture of all things is different, and my daughter likes to lay it all out, put it on herself and show off.
2. Toys under the blanket
Parental bed as a magnet attracts many children. With a daughter, we sometimes climb onto a large bed and play the next game. I hide toys under the blanket: soft, rubber, plastic, large and small, etc. She puts her hands under the blanket, and I give her these items one by one. To the touch she must determine what it is.
Daughter cheats and asks to give her a specific toy. And I am cunning in response. I say that I will give her a dog now, for example, while I am pushing something else myself. It turns out fun.
3. Tactile caps
I spied this game in one blog, but did not have time to try it. For it is necessary to prepare several lids and stick something small on them – cereals, pasta, beans, beads. A child with eyes closed should feel the caps one by one and guess what is glued to their surface.
4. Beads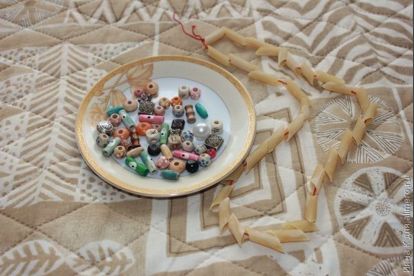 Beads do not have to be from ordinary beads. My daughter and I collect whole necklaces from horns or chopped tubes from under the cocktail. You can also use buttons or special beads. For example, we have them from a tree. In general, all these items are different to the touch. While the daughter puffs and strings them on a thread, she has time to feel both a grooved and smooth and rough surface.
Develop a tactile sensation in a child can be daily, using everything that surrounds you. For example, ask for a walk to touch the bark of the tree, smooth leaves on the trees, to sort out the sand, etc.
I remembered a scene from the movie Amelie, when the main character dropped her hand in a bag with some bulk products. So the child can select his personal jars with various cereals or pasta. Then you can do with their help applications or play the store and kitchen.
There are plenty of opportunities, the main thing is to keep the child curiosity and the desire to explore the world by touch.
Do you use tactile games in classes with children?