My daughter is 4 years old, and she already has a bad habit of biting her nails. I would not like that she remained with her for life. Therefore, I decided to address this issue while the daughter is still small.
I read a lot of literature, consulted with teachers and psychologists in kindergarten, collected information on the forums among other moms.
My main goal and task for some time was to get rid of my daughter from this ugly habit.
I want to say right away that I did not listen to such advice as punishment with brute physical force — beating on my fingers or smearing fingers with bitter pepper. I love my child very much and I want his moral health not to suffer.
The habit of gnawing nails has the complex name onychophagy. A phenomenon directly related to stress, nervous tension, increased anxiety, intense feelings, and stress. This bad habit is calming for a child, supposedly helps relieve tension and even brings pleasure.
First of all, I began to look closely at the little girl in order to understand when she starts to bite her nails. I understood that if we correctly understand the reasons that led to this bad habit, then we will quickly overcome it. I knew that I could help the child cope if I was calm and unobtrusive.
I noticed that my little girl often bites her nails while watching TV. That is, it turns out that this is the cause of the baby's nervous over-excitement.
It was decided to reduce the time of watching cartoons and children's programs to a minimum. In order to somehow distract the child from viewing, I found new outdoor games every time.
Sometimes she gnawed at her nails when something didn't work. For example, when the increased manifestation of her creative abilities was required. She was worried that something might not work out and involuntarily pulled her hands in her mouth. My husband and I talked with relatives so that at such moments together with us they tried to support the child. They praised her for every right thing, instilled confidence.
Another way to help a child in such moments is to teach to relax. We offered our girl to try to hear her own breath, taking deep breaths and exhalations.
In order to explain to my daughter why she shouldn't bite her nails, I began to teach her to look after her nails, cut them in time, take care of them. For a girl, this is very important. I drew her attention to how attractive the fingers look if you take care of them. A couple of times I even painted her nails with pink varnish. After that, my daughter was very afraid to spoil the covering of the nails and I did not notice the attempts to nibble them.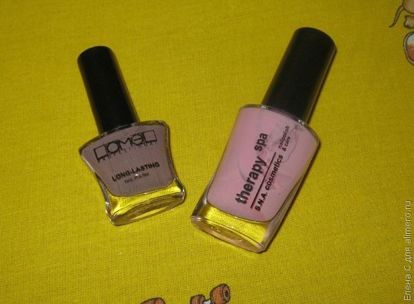 As soon as I noticed that my daughter was nibbling on her nails, she immediately distracted her by some other occupation that allowed her to take her hands — applique, modeling, drawing. After all, the presence of an interesting alternative to the child!
We have not yet got rid of this habit, but the daughter is now biting her nails much less often. I am sure that we will win soon!
Did your children bite their nails? Did you manage to get rid of this habit?