Recently, our city fell asleep with the first fluffy snow. My little daughter could not leave it without attention. Now we have a long walk in the fresh air, enjoying the beautiful scenery. But if it is enough for me to just walk along the street, looking around at everything, then for a little restless little girl this is clearly not enough.
She runs through the snow, throws it up. For several days now, the baby has been trying to persuade me to get a sled, but the fact is that there is a lot of snow only in the yard, where there is no where to ride. And on the roads it has long been broken by cars, – there is no place to ride especially.
So that the baby could have enough fun while walking and not freezing at the same time, we have to invent various outdoor games. Most of the time my nephew walks with us, she is one and a half years older than my daughter. Together they are very fun to play in the fresh, frosty air.
Today I want to tell you, dear girls, what games we play in the winter. I hope that this information is useful to you, because almost every one of you is a mother.
1. The biggest com.
When there is a lot of snow on the streets, this game is the most favorite of girls. Its rules are simple. At the command of an adult, the kids begin to roll a snowball. When an adult gives the command: Stop!, Kids stop. The winner is the one who got the snowball more.
Despite the fact that there is still not too much snow, we already played this game yesterday. The kids were delighted. True, my daughter was offended by her little sister for a double victory, but the children quickly reconciled.
This game is familiar to everyone. I think that explaining its conditions is not worth it. Although, there are certain rules that need to be told to kids:
1. You can not throw snow in the face.
2. You can not throw pieces of ice (you can hurt each other).
3. Do not throw large blocks of snow.
Recently, we have acquired a wonderful device – snezhkolep. It resembles a spoon for ice cream, only large. With it, you can make smooth beautiful snowballs of the same size. Yesterday the kids could not play enough!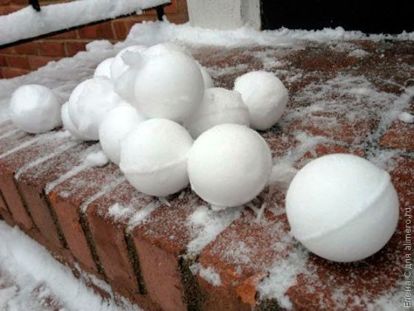 3. Snow Angel.
This game showed us my niece. Its essence lies in the fact that it is necessary to lay back on the pristine snow. Hands and feet to make movements to the side. You need to get up very carefully. It is desirable that someone helped.
As a result, an image similar to the figure of an angel is obtained in the snow. Actually, it looks impressive. Then you can complete the shape with a wand – draw the desired details.
I want to warn you that you can only amuse yourself in such a way if the child is warmly dressed enough and the snow is not wet. My daughter walks in a thermocombine, so I was lying in the snow yesterday for my pleasure.
Have you already enjoyed the first snow? What games do your children play in winter?