As if under the influence of some internal age-sensitive switch, at exactly 2 years in my peaceful and open daughter, an uncontrollable sense of ownership was involved! And now the cries: Give up. , Annie this kochet. and the like accompany our every walk.




It's unavoidable


More recently, looking at the loud heartbreaking showdowns of older children because of the next lonely toy, I was secretly thinking that maybe my Anya would not express these new sensations so brightly for her. I assumed that it was necessary to have a hot temperament in the blood, a tendency to hysterics, or something else like that. And my baby is pretty balanced, easily changed with toys and does not even roll up a scandal, if a toy was taken away … I was mistaken!
It all started with a new bike, presented to the Pansy biennium. At first she began to intensively demonstrate her desire to get on the bike and ride as soon as one of the children laid eyes on him. But very soon it all began to be accompanied by shouts and even sobs.
Now the desire to reign inseparably belongs not only to a bicycle or any other of her toys, but even to other people's toys with which she plays and does not want to give them to anyone.
Comparing the read information about children's feelings of ownership and observation of your child, I understand that this is an important and inevitable stage in the development of every child.
Two sides of the medal
It seems to me, only we, adults, can instill or not instill in our children the correct perception of certain life concepts and phenomena. Therefore, it is simply unacceptable to stand aside and leave the child alone with the unbridled new feeling.
Here begins a split of my opinion on how to behave with Anya now. When she is calm, I explain to her that there is her own and that of others, that she has the right to dispose of her, demand it and not even give it to other children, but if she wants to play together, then sharing is necessary.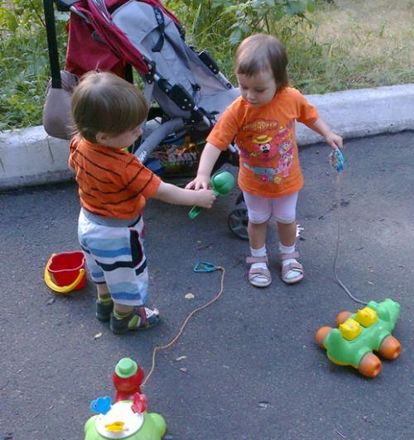 But in moments of clashes with tears and screams, I am still not sure how I should behave. On the one hand, to pull back and demand that I give up her own without reproach is the risk of suppressing the expression of her will. She must learn to defend their interests, to achieve their goals.
On the other hand, diplomatic relations in a team also need to be mastered, and without the ability to share it is simply impossible.
So far, I try to impress my girl that her toys remain her, no one will take them away, but they will play and give up, but so far this argument is not really heard … And how do you and your children develop relationships with this period of possessiveness?