When I was pregnant, I carefully chose not only food, but also clothes and shoes. I bought pants for pregnant women at the end of the 2nd month – the tummy appeared very early.
Then I began to think about purchasing comfortable shoes. I have varicose veins since childhood, and this is not just a venous mesh, but a much more serious stage. Therefore, I was very worried about the condition of my legs.
Usually I do not deny myself the pleasure of spilling on heels. Although doctors do not recommend, but sometimes I go on high heels. The main thing is that they are as comfortable as possible and I spend most of my time sitting than standing on my feet.
When I learned that I was in an interesting position, I, of course, refused the studs. While the tummy was small, I went to work in wedge-heeled shoes 3-5 cm high.
I, too, had to part with my favorite shoes, in which the wedge was narrowed downwards, because they were very unstable, sometimes a leg was tucked into them and I was afraid of falling. And during pregnancy it is especially dangerous to fall.
Coming to work, I changed my shoes to ballet shoes. Still, this is the most comfortable shoes for me. On walks, to the store and on other matters, I most often chose comfortable sneakers.
Nice and comfortable
When the cold came, it turned out that I had nothing to go about. Some boots were even on a steady, but too high heels. And others, more comfortable, did not fasten due to edema.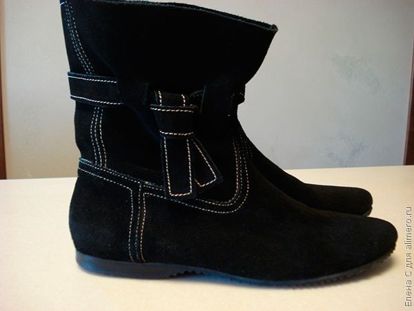 The selection of shoes was long. I could not find in any store what would fit me and more or less corresponded to my taste. As a result, I stopped looking at the look of my boots. The problem was that I had a very wide leg.
Even in the pre-pregnant state, the choice of shoes for me was a painful process, and with the appearance of a tummy even more so. Besides, I didn't want to buy lace-up boots without a snake, because it's not easy to bend over with a tummy.
In the end, after a few hours of excursions around the shopping centers, I chose boots that I didn't like outwardly at all, but were able to fasten on my leg.
I liked the fact that the front was lacing, which allowed to adjust the width of the tops, and on the side – lightning, thanks to which it was easy to fasten the boots.
These boots were so successful that I walked in them with the baby for several more winters.
And what shoes did you prefer during pregnancy?