During pregnancy, I began to eat properly. I understood the harm of meat, which is not at all environmentally friendly, began to distinguish products with harmful additives. My husband realized that if I eat sweets and chocolates in such quantities as I ate them, I will most likely give birth to a baby elephant. Yes, and his mother will be an elephant.
I tried with my husband not to eat loaves of butter, whole chocolate bars and cakes in half fell swoop. But really wanted to. And I ate them until my husband saw. The most interesting thing is that I really liked myself pregnant. Probably also because it served me as an excuse for my gluttony.
Before pregnancy, I weighed 54 kg with a height of 165 cm, I was comfortable in that weight. Before the birth, I weighed 72 kg, the weight was inconvenient, I sincerely felt sorry for obese people. Understanding that I am temporarily such, and they are not.
Arriving at the place of residence in the antenatal clinic, I went to my parents, and they know that I love. So it came off on food. I did not care a bit about my weight in pregnancy, he rather cared for the LCD and her husband.
She lived, wearing shapeless clothes, given to me by my sister after her pregnancy, she also did not really like special clothes for expectant mothers.
And not a baby elephant
My daughter stood out quite to herself with normal parameters: height 56 ​​cm, weight 3610 g. Arriving on the 4th day from the hospital, I immediately weighed. It turned out, despite the fact that I ate like a tractor with a bucket, the weight just melted. So, in the maternity hospital, I left as much as 10 kg of live weight!
No not like this! I still took 3610 g of live weight with me. And after that, my weight was in the service of this 3610 g, constantly increasing in volume and weight. For allergies, like a cornucopia, fell on my crumbs.
I did not eat … It's easier to say what I was eating. Buckwheat, zucchini and baked apples. At the beginning, unknowingly, I ate and red baked apples and even drank goat's milk, could not refuse this yummy. But this led to a cumulative allergy in her daughter. I had to refuse.
And the skin is not the same.
Meanwhile, I still remembered my flat stomach before pregnancy and the not-very elastic skin disturbed me, too. Then I rummaged in the recommendations for the period after childbirth, which I received at the center to prepare for parenthood, and proceeded to correct imperfections.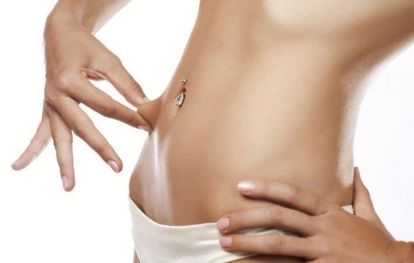 The set of exercises consisted of simple asanas, which could be performed lying on the first day after birth, they help to improve one's health, strengthen the ligaments, loose muscles of the abdomen and weakened pelvic bottom. They can be performed even with joints after the EP and the COP.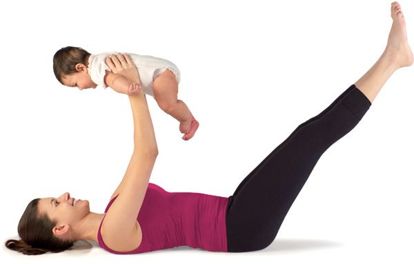 1. Initial exercises.
It allows you to improve blood circulation, strengthen the muscles located on the abdomen and help to relax:
1.1. You need to bend your knees when you are lying on your back, your hands may be on your stomach.
1.2. Inhale deeply through the nose, exhale the air through the open lips gradually, and with the end of the exhale, draw the stomach into yourself quite strongly. Hold this position for a few seconds.
1.3. A very useful variation of this exercise is with tension of the muscles of the perineum: inhale deeply with your nose, exhale through the parted lips, strain the muscles of the perineum, and at the end of the exhalation draw the abdomen into itself with effort. Hold this pose for 3-5 seconds as long as you can.
2. Wiggle.
Exercise helps to strengthen the weakened muscles in the abdomen, it will also reduce back pain. You can perform at the same time breastfeeding a baby.
2.1. Lie on your side, bend your knees.
2.2. You need to exhale the air and retract the stomach, while rounding your back, then relax your body and you need to straighten your back in the lumbar region. Perform these steps 6 times, eventually reaching 20 on the left side and 20 on the right.
2.3. You can complicate asanas: drag them into the stomach, stand still and count to 5, while there is no need to hold your breath.
3. Wiggle the pelvis.
This asana contributes to the rapid contraction of the abdominal muscles, helps to reduce back pain, postpartum pain, and for those who have suffered a CS – to get rid of gas.
3.1. Lie on your back, bend and join your knees.
3.2. It is important to exhale and draw in the abdomen, strain the buttocks so that they are together, raise the pelvis and squeeze your back to the surface of the bed or the floor. Hold this position, counting to 4. Gradually bring up to 7.
3.3. Complicate the exercise: do it at the same time pressing the pelvic floor.
4. The main exercise for the pelvis.
This important exercise will strengthen the pelvis, help to improve the blood supply to its muscles and relieve pain, promote the resorption of tumors and bruises.
4.1 Tie on your side, bend your knees and arrange them in opposite directions.
4.2. Pull the vaginal muscles up and in, as if you want to hold back urination. Hold this position, then you can relax.
Repeat this rapid contraction of muscles, do it slowly, trying to keep the muscles tense for some time (2-3 seconds, then bring to 6-10).
4.3. It is advisable to perform such contractions of your muscles after 15 minutes daily.
5. Rest with a simple correction of the buttocks and the strengthening of their muscles.
Lie down on your stomach: if you put one pillow under your head with shoulders, and the second under your belly, then free space is formed for the chest, so it is most comfortable to lie. So you can relax 15-30 minutes daily.
If you suffer from pain after episiotomy, pain due to hemorrhoids or in the back, it is possible to reduce them if you strain and relax the buttocks in the above posture 5.
Flat stomach for 2 weeks
I have a weak back, I wore my daughter in a sling and therefore these exercises suited me perfectly, it was easy to perform them, but it was interesting to watch the progress of my muscles. I never reached the third subparagraphs, and the 5th exercise was liked the most, I love lying on my stomach.

Thus, 2 weeks after birth, my weight was the weight before the baby was born. I had little energy, and I realized that something was wrong in my diet. Meat, of course, harmful, but I want to live more. And included in the diet turkey. Life has become more fun.
During these 2 weeks I did the exercises given above, every day and the belly did find a slender silhouette again. I liked it, but for lack of time and having reached the goal, I didn't do them anymore.
Only a month after ten
I love cheese, and after the visit of the doctor, who said that my daughter had a rather hormonal rash, I began to eat it. And all the same constantly wanted to eat. Breastfeeding dictated its own rules – I either took care of the baby or ate. The husband then, I remember, marveled at my portions of food.
I began to absorb the products that were allowed to me in large quantities, so I immediately cooked a pan of buckwheat, I bought cheese in kilograms at the store, and I always stewed zucchini in the biggest frying pan. In the evening, the dessert of 4 baked apples was for me a magical delicacy.
When my daughter was sleeping, I did the housework like an electric arm, and when the baby woke up, I looked after the baby and talked to her. After another 2 weeks, distracted from my weight in taking care of my daughter, I was surprised to find that I had only 1.5 kg left before my pre-weight.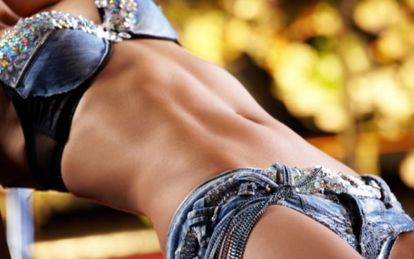 Having summarized my experience of weight loss after giving birth, I will say that a month has passed before I became as slim as I was 10 months ago. My husband was proud of me!