For me, our wedding is the birthday of our family. Official, real. For such an important event should prepare in advance. After all, this happens only once in a lifetime. From the very beginning, I really wanted to give special attention to the day of our wedding, to make it magical and unforgettable. But you need to take into account the fact that I was in position.
How we applied
In the modern world, a pregnant bride in a registry office is the norm, not a novelty. That's just the term all different. When we came to submit an application, they immediately asked us a certificate of pregnancy, they didn't even have to say anything. Having received a certificate in the LCD from the doctor, we were able to choose the date we liked at the registry office. This is an indisputable plus, I think.
And along the way, we met a familiar couple: a guy with a girl who is about to give birth. Very similar to the bun, she walked, relying on her chosen one, also to apply. I don't know if they were able to get married at that time. Perhaps they signed after the birth of the child.
I did not think to be ashamed of my pregnancy. And to hide the tummy under the lush dress, it seems to me, is also not worth it. Therefore, in the wedding salon, I immediately stated that I did not want a magnificent dress. Chose light dresses, very simple and unobtrusive. But everything that I was offered by female consultants seemed disgusting to me.
In general, the pregnancy was reflected in my character: I began to mischievous and capricious. Walking through several wedding salons, I was convinced? that there is nothing suitable there. I turned to the seamstress. We drew several models. And they chose what I liked.
I really liked my dress. On the one hand, it was simple, unobtrusive, gentle. On the other hand, accessories gave the image some kind of perfection. It was original. My husband liked it. And then the most important thing for me was that I feel comfort, and my daughter was good.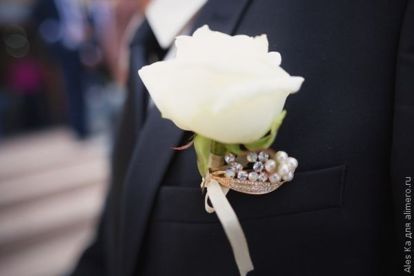 We had a lot of business. I was nervous, even in my position it was extremely undesirable. I absolutely didn't want grand parties, a long feast with unfamiliar relatives, which I gather at many weddings in a hundred, or even two.
We decided to surround ourselves only with our closest people and close friends. And, despite my rounded tummy, thanks to a beautiful dress, hair and makeup, I looked beautiful, as befits a bride. We planned to celebrate this holiday in a narrow circle, not very long, to drink purely symbolically. I didn't want to tire too much, because we walked around the city park, made a photo session, celebrated the restaurant and went home.
This is my wedding. The most important thing about her is that I was loved and loved, supported, helped. I married a loved one, and everything else is just nonsense … Isn't it?