During pregnancy, I managed to try two vitamin-mineral complexes for pregnant women: Elevit Pronatal and Multi-tabs Perinatal. Each identified both pros and cons. I want to share my personal impressions of taking Elevita with you.
How and why did I choose Elevit
As soon as I got registered in the antenatal clinic, the gynecologist immediately ordered me to take 2 drugs: folic acid and iodine tablets. This is a standard prescription, since folic acid is necessary for all pregnant women, especially in the early period. And iodine is needed by people living in iodine-deficient regions, which I also belong to.
At the same time, the doctor said that, in principle, you can start taking some medication with vitamins and minerals for pregnant women. But this is not necessarily so on such a short period, for the time being it is possible to do with only a healthy, full-fledged, varied diet. That is up to me. Of all the variety of means, she especially praised Elevit.
I was not surprised, since Elevit is very popular, and even before pregnancy I often heard about him from my acquaintances. This was the first reason I stopped at it.
The second was its cost. It is quite high in comparison with others, but I am sure that good cannot be cheap. Especially drugs. Therefore, the price factor is often seen as decisive and is confident that it is directly proportional to quality.
True, I decided to save a little, immediately buying a large pack of pills. It came out cheaper. They cost me about 1000 rubles per pack of 100 pieces. That is, the cost per day received only 10 rubles.
I started the reception only from the 18th week. What played the role was that the doctor did not particularly insist, and also my fears about how the body would react to this drug. After reading the reviews, I learned that some multivitamins help fight nausea and poor health in the early period, while others have absolutely the opposite reaction.
I had nausea, dizziness, intolerance of any odors before 17-18 weeks, and I was just afraid to experiment, so as not to worsen the situation. But then, when everything gradually passed, I started taking these pills. It ended up costing one pack, because it was enough for more than 3 months.
And at a later date, I unexpectedly received free vitamins with a prescription from a doctor. It turned out to be Multi-tabs, and the last weeks of pregnancy I switched to it. What to say about free medicine: better late than never.
Elevit is recommended not only for pregnant women, but also those planning pregnancy and lactating women. On the day, you need to take one pill, which contains all the most important vitamins for pregnant women (there are 12), minerals (4) and trace elements (3).
The dosage of these substances turned out to be rather high, compared to the same Multi-Tabs, for example. Some substances are many times more.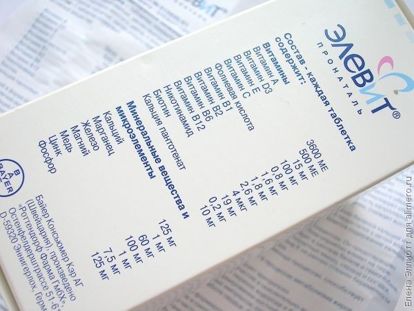 The instructions indicate that the amount of vitamins corresponds to the doses recommended for pregnant women. And the amount of minerals (except iron) below these doses. It also describes in detail what they are for and how they affect the mother's body and the baby.
Elevit also has contraindications:
-idiosyncrasy
-vitamin A and D hypervitaminosis
-elevated blood calcium or urolithiasis
-violation of iron absorption.
disadvantages
I discovered two for myself:
1. The instructions indicated such side effects as gastrointestinal disturbances (constipation). So it manifested itself in me just a couple of days of admission. After reading reviews on the Internet, I found out that I am not alone with such a problem.
I had to escape a large number of fruits and dried fruits, as I read that such a violation of the gastrointestinal tract does not require the abolition of the drug. Yes, and greed is not allowed to throw out such a large package 🙂 As soon as I finished taking the pills, everything went by itself.
This was due to the lack of a large amount of iron. For example, 1 tablet of iron Elevita contains 60 mg, and Multi-tabs tablet contains only 14 mg. Where is the benefit, and where is the harm? How much iron should ideally be? I, as a simple consumer, do not know about this.
2. The composition of Elevita does not include iodine. And I had to continue taking iodine tablets in parallel with the vitamins.
But, on the other hand, each region has its own recommended dose of iodine. We, for example, endocrinologists advise pregnant women to take 250 mcg daily. Therefore, with Multi-tabs (in which iodine is contained, but only 150 µg), I still had to take an additional 100 µg.
During the entire pregnancy, I did not have any signs of hypovitaminosis or avitaminosis. All tests were excellent. I was especially worried about hemoglobin (after having heard horror stories from other pregnant women), but he was always normal. The baby was also born absolutely healthy.
During breastfeeding, I did not take Elevit, limiting myself to Multi-Tabs. But I think that when I get pregnant again, I will go on a proven path and will take Elevit.
What vitamins did you take during pregnancy? What did you like about them and what didn't?