Remember the times when nobody was allowed in the maternity hospital? It was the kingdom of mother and child, and the happy fathers stood with flowers under the windows and vigorously expressed their joy.
Now visiting mothers are allowed. And all the fans immediately after birth can see a new family member. Abroad this is accepted for a long time and does not surprise anyone. There, all friends carry gifts right in the ward to a happy mom. But I often wonder if this is right.
When I gave birth to my daughter, she seemed to me tiny, fragile and defenseless. So it really was. After all, the child's immunity is formed gradually, in the process of life. He comes with mother's milk. Therefore, it is so important to breastfeed for the first six months, when the baby has no immunity yet, and you give it yours.
The first acquaintance with microbes
For the first hours of life, the baby is quite enough to meet and my mother's microbes. Imagine the stress for a small organism to move from a sterile womb into our imperfect world. The child's body is immediately colonized by a huge number of bacteria.
These are the thoughts that visited me when visitors came to my hospital. These were close and loved people whom I am always glad to see, but this time I was worried about their arrival. At that moment I was only concerned about my baby and her health.
I gave birth to my daughter in 2007. In my paid chamber of visitors allowed in two. And there was a second bed for the visitor left overnight. Everyone was given clean bathrobes. Shopping disposable capes and boot covers then not required. And it is very vain! I have two hands for such security measures.
But there is a maternity hospital, where the visiting regime is even less strict. We have one such, recently renovated and filled with sponsorship purchases. They apply new approaches to women in labor, they give birth sitting, standing and in the bath.
But all the relatives from the region walk in crowds along the corridors and celebrate in the wards. And some of them are designed for two parturient women.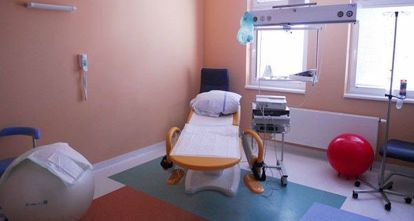 For me, this is overkill. I understand that there are women for whom the help of relatives is simply necessary, I myself was one of them. There is no need to count on hospital staff. After all, young mothers are much more than nurses and doctors. Therefore, you can not prohibit visits.
But before turning them into a source of income, it is necessary to create conditions for everyone to be comfortable. Separate chambers with toilet and sink, so that the woman in labor did not have to stand in line with someone else's coughing aunts.
One of my friends works in the sanitary epidemiological station, she scared me with a terrible story. They worked on the case when one of the guests infected the baby. The adult had only a runny nose, and the child developed meningitis (inflammation of the brain). Save the crumb failed.
This, of course, is an isolated case, but no one is immune from such irresponsible relatives.
So it turns out that letting visitors in is dangerous, and not letting them in badly. Here each mother chooses herself. What do you think about the guests at the hospital?