Even before a small miracle appeared in my tummy, I really liked to read all sorts of magazines, such as My child, I'm waiting for the baby and Mommy's school. Therefore, before the onset of pregnancy, I already kept a couple of such publications and I read them periodically.
After the appearance of two long-awaited stripes on the dough, I took these magazines out of the nightstand and put them on a place of honor, so to speak, closer to get a closer look at their contents as soon as possible. Yes, and a friend after I learned that I will soon have a baby, brought me a pile of such literature.
Despite the fact that every month their number certainly increased, there was not much time to read. I came home from work at 7:30 pm, cooked dinner, fed my husband and went to rest. I had a terrible toxicosis for the first few months, constant weakness and I wanted to sleep more than to read.
The time of magazines came a little later, when I went on maternity leave, 3 weeks before the DA. I started with the magazines Pregnancy and I am waiting for the baby. After a couple of days, and moved to the rest.
Despite the fact that the Mamochkin School magazine describes issues related to children from birth and older, and not with the very period of pregnancy, I still read them with interest and learned a lot of useful information, which was very useful to me after Elech's birth, when there was absolutely no time for reading.
A friend gave me a book, which she also read, being in an interesting position. It is called Waiting for the child. It describes everything related to the state and feelings of the future mother by months.
So, when the next month of my pregnancy came up, I opened this book and compared my feelings with the information presented there. And almost all the same. In this book I found answers to many of the questions that interest me and am very glad that at such a time I was lucky to read this edition.
What is not useful
A couple of books are gathering dust on a shelf in the closet. These are Children's diseases and Children's questions – adult answers. The first was given to me by my grandmother, the second I ordered from the online store.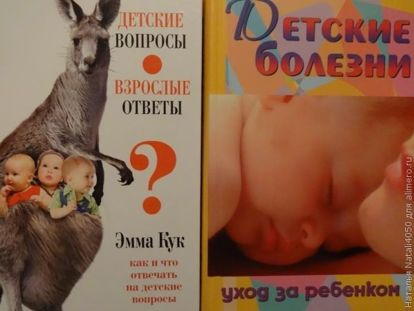 In Children's diseases about the simplest diseases it is written very poorly, but about complex ones (I hope, this information will never be useful to us) is very detailed.
Children's questions – adult answers are written taking into account the American mentality, in our society the advice it contains is not entirely applicable. So this edition does not bear anything interesting and useful.
What did you read during pregnancy?