I want to share my story about how I found myself in such a difficult situation, but I did not quit my studies and saved the child.
It happened when I was only 16, and my boyfriend at the time was 18 years old. I studied in the 10th grade, and my immediate plans did not include the birth of a child, I could not even think about it!
First suspicions


The delay was more than two weeks and all the time I was drawn to sleep. The temperature was kept at 37 degrees. I thought I was just sick. Saw tea with lemon, honey, and go to sleep. Although, the thought appeared: what if I'm pregnant? But I drove them away right away, because I am only 16!
Two strips


Mom insisted on buying a test. Fears were confirmed! It is good that my mother is an adequate person, there was not even a speech about abortion. She said grow up! The future dad was very manly and just calmly said that everything would be fine.
On this day, at school, I only thought about how I would study further, I was scared … But, the new life that originated in me gave me confidence that everything would be fine. When I got home, I decided that I would definitely give birth to my baby and finish school.
Life goes on


Despite the strong toxicosis in the first trimester, I continued my studies. It was difficult, but I understood that I needed to learn.
At school, no one but my friend knew about my interesting position. It was only at the end of May that I noticed that everyone was looking at me, some with contempt, someone with curiosity. And I thought, well, look, but I saved my child and continue to learn.
I finished the tenth grade when I was 5 months pregnant.
At the 6th month, after I turned 17, we had a wedding.
I switched to evening school. She came there and took assignments, performed them at home, the next day she brought them to the test, studied the material on her own. It was very convenient for me.
September 28 was born our beloved daughter! She gave birth to herself and without complications. Great happiness to see your baby being born!
After 40 days, I continued my studies at night school. My husband and my wife remained with my daughter. Learning and raising a child is difficult, but possible.
Graduation


Exam passed. The results were even higher than I expected.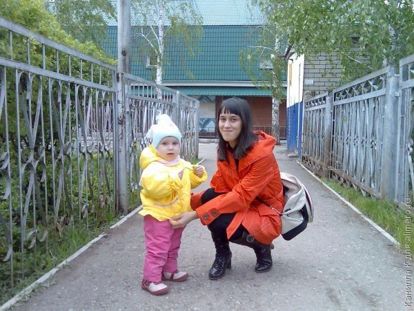 I think I made the right choice. Now I have a beloved husband, one and a half year old daughter and a certificate of secondary (complete) general education. And I'm just happy! All the good is yet to come!