New Year. The apartment was filled with the romantic mood of two people loving each other and the soul wanted to talk about the children.

Desire to give birth
I told my husband about my desire to give him a daughter like him. And her husband, in a whisper, so as not to frighten away the silence, admitted that he would like a girl like me.
The first month of attempts to get pregnant was unsuccessful. I thought that I was not fully prepared for the new life to settle in my tummy. Therefore, we could not get pregnant the first time. There may have been other reasons, but that was the main one.
Went the second month. I felt that I began to trust my husband more and open up before him. And the day of conception has come. My thoughts flashed through my head: Come on, give birth to a girl with you. And our intention was given the opportunity to come true.
First signs of pregnancy
On the morning after conception, I felt like sitting in heaven. A magical feeling of hope that everything worked out did not leave me. The sun was shining through the window, and nature pleased me with her beauty waking up after the winter.
And after that day, strange things began to happen to me. In the morning, when I woke up, my palms were hugging the tummy, as if they were protecting something very valuable and fragile.
About a week I did not leave the feeling that a balloon was inflated in my uterus, which subsequently flew off somewhere. I shared these new feelings with my husband, and he told me: We'll see. I believe that everything will be fine.
After the balloon, I started having unpleasant feelings in the lower abdomen. That pricked on the right side, then pulled around the perimeter of the abdomen. After a couple of days, the pain went away and I calmed down.
Three months before conception, I was ill with cystitis. And constantly ran to the toilet. Cystitis, I cured safely basil and thought that this byaki with me will not happen again. But when I started to run again every five minutes to the toilet, it scared me. It was strange that I didn't feel any pain and didn't know anything about such a sign of pregnancy. I told myself that I would wait for critical days, and then I would go to the doctor.
It was the fifth day of the delay (on the first date – I had a cycle of jumping). I woke up at six in the morning and went to the bathroom to do a pregnancy test. There was nobody at home except for me and my beloved husband.
And so, while my husband was watching the tenth dream, I quickly made a test, put it on the table and rode off to the kitchen to make tea.
Ten minutes later I was standing opposite the dough on the table and did not dare to take it. Closed her eyes, took the test. Opening one eye, I saw the second striped. Then I sat down and opened my second eye. Then she blinked her eyelashes and brought a positive result closer to her eyes in order to get a better look at it.
By the way, on the eve of this day, I had a dream that I ran with a pregnancy test and showed everyone two bars. And she said: I am pregnant! I am pregnant!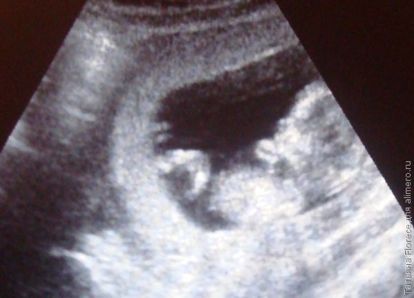 With a smile in my eyes and in general in my whole body, I swam out of the bathroom straight into the room where my beloved had already woken up. I sat down next to him and stretched the test, said: We seem to have a baby.
And it became so good from his embrace in his heart. The warmth of love spread throughout the body. On that beautiful day, we realized that we would become a father and mother!