Dear readers Alimero!
I wanted to share the story of the birth of my beautiful Basilisk. To me
It seems that it is necessary to write this somewhere in order to somehow experience the whole story.
My pregnancy went well, I passed all the tests perfectly, everything
it was normal … We even flew to Rome for a few days. I gained little weight, in 30 weeks it was only 5 kg.
And here doctors began to worry. After another ultrasound, my gynecologist
sent me to her colleague specialist in morphology. After an hour
examination, she told me that she sees the cerebellum poorly, and, perhaps, there are huge deviations. What does this mean and what threatens it, I, of course, not
said not to worry about the future mother. You understand that
the future mother, that is, I, on the verge of a nervous breakdown, read everything that could be found on the Internet. The picture was not at all funny, including such horror as spina bifida (Spina Bifida).
The week I spent was just impossible to describe. All week she was spinning in my tummy, I just could not terminate the pregnancy! In general, I was lying and crying, looking at the ceiling. My husband phoned all the specialists in the region and took me to a survey of 2 different professors. As it turned out, there was nothing there! The baby was developing quite normally, her cerebellum was also in order.
This episode was over, but after these emotions, doctors noticed that she
ceased to grow as before. Gaining weight less and less. I do not
I can not think that all this is because of that specialist. I went oooooochen
a lot of ultrasound (almost every 2 days)! I got a huge amount
blood tests. I sat for hours on CTG! 35 week found that my
the placenta has grown old and the baby did not get enough nutrition to
gain a lot of weight. At 36 weeks I was sent to the hospital on
preservation.
One more week passed in the ward! Every 3 hours CTG, every
morning and evening Uzi. I re-read 4 books this week … And one fine
Day (July 1) I was told that we will not wait any longer: she started
lose weight. At 37 weeks prescribed cesarean section.
There was officially one reason: she was in a pelvic position. It was
there are two others that my gynecologist decided not to talk to me about. In-
first, Vasilisa was wrapped with umbilical cord around her neck 2 times and once
around the arm. As soon as she managed it? The second reason: a very rare disease – placenta accreta. This means that my placenta, instead of adhering to the wall of the uterus, has sprouted inside this wall. If I gave birth naturally, a huge bleeding would be inevitable. The placenta was left in the stomach at birth and I had to undergo another operation 3 months later, when it ceased to be equipped with vessels.
The operation itself was great! Anesthesia, cesarean, everything was done
professionally. Basilisk screamed immediately, on the Apgar scale she was 10 from the first minute. Her weight was really small: 2 kg 140 g at 44 cm length. My husband was present at the whole operation, he saw the first
my baby, he put it on, warmed it up on his chest … I only saw her
a few seconds since it was cold in the hall. He went into the room with her,
I was sewn up. Thanks to the gynecologist, I have a very thin scar
low!
While I was lying there, I realized what a joy it was to transfer all this and give birth,
even if not natural birth, such a healthy baby! I have it, though small, but already so strong and intelligent (pah-pah-pah,
knock on wood).
The last long week has passed between my chamber (I only got up on
second day) and the neonatal center, where she was taken for observation due to the small weight.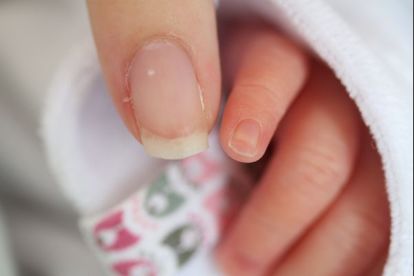 That's the whole story. Thanks to everyone who read! I want to say finally, mommies, be brave, even if the time seems long and the problems are all
harder and harder. At the end of all the trials there will be a baby – and this is such a happiness!
We are now 4 months old!